WBOC-DT presents HD news in the round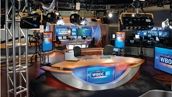 In 2006, the task at hand for chief engineer Dan Panichella and his team at the independently owned WBOC-DT was daunting, although similar to what many engineers are faced with these days: upgrade an existing hybrid analog/digital plant to an all-digital infrastructure as cheaply as possible, and make sure it's future-proof and includes redundancy for reliable 24/7 operation. But it was not to be just any operation. The year before, the station contracted local architect Becker Morgan Group and set designer FX Group of Ocoee, FL, to create an 11,000sq-ft NewsPlex behind the existing station. The new facility would feature at its heart a 300-degree, carousel-like main desk, riser and lighting grid, the brainchild of FX creative director Bill Brown.
Collaborating with WBOC news director John Dearing, FX senior designer Glenn Anderson developed the unique, news-in-the-round concept whereby the open newsroom, edit suites, production studio, control room and weather center all double as newscast backdrops. The new, open facility would also promote a collaborative work environment that was nonexistent in the old building.
To complicate things further for Panicella, about a third of the way into the SD digital migration project, he and his Draper Holdings Business Trust managers recognized that the cost for HD technology was only slightly more expensive. With the help of systems integrator The Systems Group, based in Hoboken, NJ, the CBS and FOX network-affiliated station began installing HD equipment in May 2008. On August 26, the Salisbury, MD-based station went on-air with its local newscasts in HD. WBOC-DT was the first in its market — and the first in the state of Maryland — to do so.
To house the new equipment, the station constructed a new 11,000sq-ft building, located adjacent to its existing broadcast facilities. Belden RG11 cabling provides tie lines between the old part of building and the new facilities to help move signals back and forth between master control and the new production facilities. Internally, there's also more than 10mi of RJ-11 HD coax cable.
The new building features a bustling newsroom, edit suites, a production studio and a control room, which are all situated in a wide open and camera-friendly design that allows multiple angles to be captured from throughout the set and newsroom environment. It also promotes a collaborative work atmosphere among the staff that was not present in the old building. Like the old building, the new plant produces local news content for WBOC, the CBS affiliate (channel 16) and the FOX 21 channel. Both are now broadcasting in HDTV.
A new foundation
Previously, the station used a collection of analog routers and tape-based DVCPRO edit systems and cameras, as well as other obsolete production equipment — with a few pieces of digital processing gear thrown in. The new building includes a Thomson Grass Valley Ignite system with robotic cameras, a rotating anchor desk/stage, two multichannel Omneon servers, dozens of Evertz modular boards and an Evertz MVP multiview software system for its monitor wall in the control room.
The control room also features two Panasonic tape decks that are controlled by the Ignite system. In the case of breaking news, the crew inserts a tape, and the footage is played directly out of the Ignite system to air. Upconversion is performed with an Evertz card linked to the output of the VTRs.
The station continues to use an existing analog Pro-Bel Eclipse router (112 × 96) and a smaller (64 × 64) Pro-Bel Freeway SDI router. As part of the upgrade, however, the Eclipse has been expanded and a new Pro-Bel Sirius 64 × 64 HD router installed to handle HD signals. Audio is mixed with a Klotz Digital audio board that's built into the Ignite integrated production system. There are also seven Apple Final Cut Pro HD edit suites to cut HD packages. The final result is an HD QuickTime file.
The new NewsPlex studio employs four Thomson Grass Valley Ignite robotic cameras. A manually operated JonyJib crane with a Hitachi HV-D5W HD camera atop its 12ft arm captures relationships between areas during bumper shots. Another Hitachi HD camera is mounted in the grid. The studio also features a Panasonic handheld camera on a tripod that's used to shoot around the studio.
Panichella said the station needed a building that would incorporate the newsroom and technical facilities in a common area. Before, these areas were separated by numerous walls and hallways. Content was previously played out from an SD Omneon server. Producers and reporters were often seen running down the hall toward the control room. Now there is a shared environment, where producers interact with anchors and the technical crew in ways they never did before.
In the field, the station maintains 15 ENG DVCPRO analog cameras. The resulting analog images are upconverted using Final Cut Pro software. When budgets permit, the tape-based cameras will be replaced with Sony XDCAM HD camcorders next year.
Cutting to the chase
News packages can be turned around in near real time. Images from the field are ingested directly into a local storage drive attached to a Final Cut Pro workstation for each editor. The station has established a file-based workflow whereby all of the editors work on dedicated storage arrays. They are not networked together yet; that will come next year in the form of an Apple Xsan system. Currently, they share content via a Final Cut server. SD images are upconverted within the Final Cut Pro software, where side panels are added to fill in the wide (16:9) aspect ratio of HD.
Finished files are transferred to three channels of Omneon MediaPort HD servers via the station's ENPS newsroom computer system, for playout. The Omneon server is used like three VTRs to store the various news clips. An existing Pro-Bel 320 master control switcher, which continues to be located in the old building, feeds the CBS and FOX affiliates. Syndicated programming will also continue to originate from the old building, where 30 incoming satellite feeds from Telesat are recorded with the help of a Sundance Digital automation system.
Live production in the NewsPlex is handled with the Ignite HD system via a virtual control panel. This panel allows directors to hot punch a video source when necessary. Some upconversion is also performed inside the Kayak switcher section of the Ignite system. Employees trained on the Ignite system for seven weeks and picked it up quickly. Since then, there have been few technical errors, and the station's six hours of daily newscasts looks cleaner than ever.
The glassed-in control room includes the Evertz MVP system and a monitor wall made up of three 50in Panasonic plasmas screens with multiple inputs. There are also more than 50 widescreen monitors of varying sizes throughout the new building. They display a wide variety of live images, from outdoor remote camera feeds to incoming program channels.
News in the round
Some stations use a news wheel to play out programming. At WBOC, the news is presented literally on a wheel. The FX Group-designed anchor desk is located on a platform rotated by a programmable, motor-driven gear system similar to those used to rotate cars at auto trade shows. It's a motor-driven gear system that moves a circular platform, much like a carousel operates.
When the production teams want to change backgrounds, as they do three times each day, the riser rotates on its center axis with its fixed, trellis-like lighting grid above. Eric Haugen, FX lighting designer, populated the grid with De Sisti Magis 650W fresnels for keys/backlights, as well as Delux 2 and Delux 4 fluourescent soft lights for fills. The set is accented with ETC Source Fours, and the dimming and control consists of Dove grid-mounted shoebox dimmers controlled by an ETC SmartFade 2496 console.
The only equipment that has to be physically moved to new corresponding positions are the cameras. After they are repositioned to precise floor marks, station directors quickly tweak the TMEs sent to the Ignite system to fine-tune framing and focus.
The NewsPlex design uses true working areas as backgrounds. They include a state-of-the-art weather set, frosted background set where editors can be seen working on the other side, the assignment desk (made slightly higher to soundproof the reporter area behind it), a working control room set, and a production/standup area featuring two Sanyo SD rear screen projectors masked for 16:9. The newsroom is often seen on screen during newscasts, with reporters presenting stories from their desks.
In the studio, the station employs Lectrosonics wireless mics on its news talent and Sony ECM76 hard-wired microphones for backup. The station uses a 13:9 aspect ratio for the Kayak switcher's internal upconversion, which fills the screen on most HDTV sets.
Achieving their hi-def goal
After years of working with legacy equipment in various stages of functionality and age, the new building gave Panichella and his team a chance to start from scratch and build a 21st-century facility that gets news to air faster and eliminates many manual and redundant processes.
The studio is at the center of the facility, and the edit and control rooms feed off that. The assignment desk serves as a buffer between the studio and the newsroom. This concentric nature of the new studio facilitates a smooth workflow that has made the staff more productive.
In the end, the station has made the most of its available resources, and management could not be more pleased with how smoothly the transition occurred. Ratings are up due to HD broadcasting. Broadcasts are watched in Maryland, Delaware and parts of Virginia on cable (Comcast, Charter and Mediacom), telco (Verizon) and over the air, with an Axcera single-tube IOT transmitter (maximized at 635kW ERP) located in Laurel, DE, about 10mi away. Not bad for a station in the 144th DMA.
Michael Grotticelli regularly reports on the professional video and broadcast technology industries.
Technology at work
Apple
Final Cut Pro HD workstations
Final Cut server
Associated Press ENPS newsroom computer system
Belden cable
De Sisti Lighting
Magis 650W fresnels
Delux 2 and Delux 4 fluorescent soft lights
ETC
Source Fours lighting
SmartFade 2496 console
Evertz
Modular boards
MVP multiview system
Fujinon HD lenses
Hitachi cameras
JonyJib crane
Klotz Digital audio board
Lectrosonics wireless mics
Omneon MediaPort HD servers
Panasonic
DVCPRO cameras and decks
Plasma monitors
Pro-Bel
Freeway SDI and Sirius HD routers
Sanyo SD rear-screen projectors
Sony ECM76 microphones
Sundance Digital automation sys.
Thomson Grass Valley Ignite sys.
Design team
WBOC-DT
Dan Panichella, chief engineer
Greg Gay, IT manager
Jeffrey Disharoon, technical operations manager
John Hopkins, project manager
John Dearing, news director
FX Group
Bill Brown, creative director
Glenn Anderson, senior designer
Joel Biske, graphics designer
Eric Haugen, lighting designer
The Systems Group
Paul Rogalinski, project manager
Christian Dam, design supervisor
Matt Marino, site supervisor