Public Broadcasters Discuss Impact of New Tech to Engage Viewers and Stay Competitive
APTS session explores rapid growth of streaming and new opportunities in NextGen TV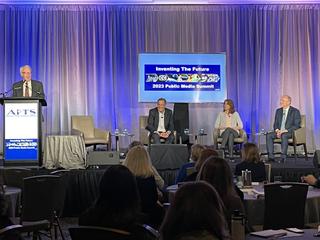 (Image credit: Future)
WASHINGTON—Throughout its 50+ year existence, PBS has had a long history of using technological innovation to serve its viewers and communities—from educational and interactive services to datacasting, emergency alerting and coverage of local events. But as the past three years have shown, the disruption caused by the pandemic—which coincided with the emergence of streaming as the dominant force in television—is prompting public broadcasters to explore ways to use new technology to enhance and expand their presence in communities large and small.
This was the focus of a session at the APTS Public Media Summit this week, featuring John Zeglis, former chairman and CEO of AT&T Wireless and current board member of APTS and WNIT, South Bend, In.; Jeffery Cole, director of the Center for the Digital Future at the University of Southern California; Andrew Russell, president and CEO of PBS SoCal and KCET in Los Angeles and APTS Board Chair, and Madeleine Noland, president, ATSC.
Zeglis opened the session by paraphrasing his favorite business writer, Peter Drucker, who once said that the greatest danger in times of turbulence is not the turbulence, it is to act with yesterday's logic. Aligning that sentiment up with the impact of the last three years was a common thread during the session.
Zeglis commented on how the pandemic and the increasing dominance of streaming services has impacted how public broadcasters communicate with their audiences and the search for the "that next wave of killer apps."
"[Our panel] is billed as 'discussing a changing media landscape,' but I gotta say that I think it's more like 'rearranging' the landscape because who would have thought that half of all former television content is now being distributed through streaming?" Zeglis mused. "This really has the attention of small stations like us in Northern Indiana—most of what we broadcast we don't produce. so what's our role in the future when suddenly our content can be pulled down from some central server or from that 'great jukebox' in the sky?
Lessons Learned
Cole reminded attendees that APTS's last in-person gathering was exactly three years ago, just prior to the March 2020 global shutdown. "We lived through the greatest disruption of our lifetime," Cole said, adding "your last meeting face to face was within a couple of weeks of that disruption."
Cole focused on the shutdown's impact on the film industry which perhaps, among all media, suffered the greatest disruption of all when movie theaters closed and studios were forced to experiment with the traditional method of determining when a movie was released and on which platform. Although the studios had been testing the boundaries of the traditional 90-day window between theatrical release and streaming availability, the pandemic allowed the studios to put such experimentation into reality.
For example, companies like Disney and Warner Bros., which owned both film production companies and streaming services, experimented with premiering new releases on their streaming services as part of the subscription. Cole noted that Warner Bros.,—which had just unveiled its HBO Max streaming service during the early months of the pandemic— was among the most extreme in its experimentation.
"Warner Brothers wanted to get attention [for HBO Max] and decided that every movie they released in 2021—which included 'The Matrix,' 'In the Heights,' 'Dune,' every single one of them would be available on the day it appeared in the movie theater on HBO Max. While all this experimenting went on, people were wondering 'would we ever go back to the movies?'" Cole mused.
All of those experiments failed, Cole said.
"They cannibalized the box office and people didn't see them. We began to learn that you could probably not have a billion dollar movie without movie theaters. If you can't have a billion dollar movie you can't have a $200 million budget."
Although box office in 2023 is still lagging behind pre-pandemic levels, last year saw the return of the first $1 billion grossing movies since before the shutdown, a return to a sort of semi-normalcy that Cole attributed to one of the only persons on earth with the kind of clout to fill movie theaters again.
"The guy who saved the movie business—and this isn't an exaggeration— is Tom Cruise," Cole said. "'Top Gun Maverick' was finished before Covid but Tom would not let them release it in '20 or '21. He had the power of control when it was released. He wouldn't release it until last May. No one ever sold or marketed a movie the way he did and brought people back for the first billion dollar movie after Covid."
As the country began to open up again, viewers started becoming preoccuped with things other than TV viewing, Cole said.
"As we began to leave our homes, 2022 was the year that we learned that streaming was not the answer," he said. Prior to the launch of Disney+ in 2019, the dominant player in streaming services was Netflix, but with the influx of new streaming services from major studios that happened to coincide with the onset of the pandemic, saturation has taken hold and so has competition for viewers. And with declining subscription numbers impacting revenues, this is leading to companies like Netflix launching lower cost ad-supported tiers.
"I think it's a war between Disney+, HBO Max and Netflix and the streamers are realizing that they cannot raise their prices, they've got to find other ways to enhance their revenue," Cole said. "That's why they're moving to advertising."
What does all of this mean for PBS and their commercial brethren? "I think local television got rediscovered during Covid," Cole said. "Local television usage was over 50%—but so too was cable, and streaming was up 74%."
Cole added that the Center for the Digital Future has been tracking viewership of local news for the past eight quarters, and when it comes to what viewers' primary source of news is, "what we found was really quite astonishing for people who don't know how good local and public TV is."
The number one answer in both the first and final quarters was local television, according to Cole who added that "17% of Americans use local television as the primary source of news; and it grew from 15% in Q1 while cable television dropped from 13 to 10; broadcast television went from 12 to 13 and the internet dropped from 13 to 11."
"People discovered how much they care about what's happening in the local community," Cole said, adding that with more streaming services adopting advertising, "public television is now the only place to go to escape advertising."
"All of a sudden streaming's looking a lot like cable television," he concluded.
Maintaining Close Community Relationships
Russell spoke to the unique relationship public broadcasters have with their local communities and the focus on providing the types of services and outreach that other media outlets can't or won't, particularly for rural viewers.
"We need to continue to serve those unserved and underserved communities, especially those without broadband content," Russell said, adding that, in contrast to broadcast's "one to many" paradigm, public broadcasters should also take advantage of streaming's unicast model.
"We must lead into innovation with this powerful one-to-one technology," Russell said. "We must use this technology, not just for membership, enrollment, and renewals, but also to support and strengthen our wide range of station local business models, such as K-12 education, university services, local journalism, early education, to impact initiatives to address local community issues."
Pointing to Amazon's approach to encouraging user loyalty, Russell urged his fellow public broadcasters to focus on the themes that have engaged viewers with their local stations and to use new technologies to enhance those relationships.
"We care about education and learning; we care about our connection to our communities; we care about engagement; we care about serving and growing," Russell said. "The underlying technology of screens allows us to build relationships and at scale. We're looking at the beginning of exploring the powerful potential of this technology as examples in our own stations."
"Now this requires a lot of technology," Russell added. "It requires data warehouses, adaptive marketing technology, systems and software, artificial intelligence, new tools for our staff. It requires new roles for our staff and our relationship managers to build and curate relationships in our community and with our viewers."
"As we think about where we stand today, we stand at an open unknown frontier before us," he concluded. "Our mission is strong and unique. It is about public service. It is about local. It is about using the power of media for public good. Ahead for us is innovation and creativity, using local and national technology at scale, providing tools for all stations large and small, and new efficiencies in the way we can deliver our mission."
3.0 Outlook and Opportunities
Although deployments of ATSC 3.0 (aka NextGen TV) among PBS stations have lagged behind their commercial counterparts, public broadcasters have developed new ways to use the advanced TV standard to keep communities safe and informed—from PBS North Carolina's PILOT-funded field tests, using 3.0 as an alternative to the analog paging systems first responders rely upon, to a pilot project in New Mexico to deliver classroom content via ATSC 3.0 broadcasts to students without broadband services.
Madeleine Noland, ATSC president updated the APTS audience about where the other half of the 3.0 transition—the consumer side—currently stands.
Since hitting the market in late 2020, approximately 5 million 3.0-enabled TV sets from Sony, LG, Samsung and Hisense have been sold in the U.S.. While 2023 is considered a transitional year, Noland believes the market for NextGen TV consumer products will reach maturation by 2026.
As for peripherals such as set-top boxes and dongles that consumers can use to receive 3.0 on their non-3.0 sets? That's probably the most exciting part of the consumer equation, Noland said.
Products such as the Zapperbox and HD HomeRun 4K have been on the market for awhile but a new device from Tolka promised later this year will be the first to sport the NextGen TV logo.
"Having the NextGen TV logo [on such devices] is extremely important marketing for us," Noland said. "And it's going to potentially include the smallest USB dongle for $75."
Noland is optimistic about the pace of the transition, especially in terms of the availability of consumer products.
"If you were to compare where we are with the transition to NextGen TV now versus where we were at this time for the digital transition from analog, we are further ahead," she said. "And when you consider that the first set-top box that came out for the original digital standard cost $1,700 in today's dollars, and these [3.0 devices] are coming out for $75-$250 already, we're doing really really well."
Noland urged the audience to take advantage of the wealth of new services enabled by ATSC 3.0, which combines over the air broadcasts with IP, giving broadcasters the ability to offer advanced services including 4K, immersive audio, datacasting and other OTT-type services. It's through such capabilities that broadcasters will have the ability to compete in the current crowded media market, she said.
"The world is your oyster, but it's really important for you to open the toolbox of NextGen TV," she said. "Just the power that we have to work with local content, new revenue opportunities for new business models, new ways of doing hybrid OTA OTT services—that's all for the taking. So I know the transition is hard, but we gotta get there. We cannot compete with 25 year-old technology in today's media landscape."
The latest product and technology information
Future US's leading brands bring the most important, up-to-date information right to your inbox
Tom has covered the broadcast technology market for the past 25 years, including three years handling member communications for the National Association of Broadcasters followed by a year as editor of Video Technology News and DTV Business executive newsletters for Phillips Publishing. In 1999 he launched digitalbroadcasting.com for internet B2B portal Verticalnet. He is also a charter member of the CTA's Academy of Digital TV Pioneers. Since 2001, he has been editor-in-chief of TV Tech (www.tvtech.com), the leading source of news and information on broadcast and related media technology and is a frequent contributor and moderator to the brand's Tech Leadership events.