FCC takes free travel and data from regulated industry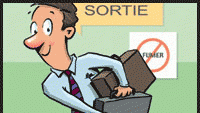 FCC officials have taken more than 2,500 trips paid for by companies and trade groups from the broadcasting and telecommunications industries, and the agency increasingly relies on industry-generated data to justify sweeping deregulation proposals, according to a new study by the Center for Public Integrity in Washington.

FCC commissioners and agency staffers have attended hundreds of conventions, conferences and other events in locations all over the world.

The report, released last week as the FCC prepares to ease key media ownership rules that affects the largest media companies, shows that the trips cost nearly $2.8 million over the past eight years. This is in addition to about $2 million a year in official travel funded by taxpayers.
While apparently legal under government guidelines, FCC commissioners and agency staffers attended hundreds of conventions, conferences and other events in locations all over the world, including Paris, Hong Kong and Rio de Janeiro staying in such high-priced hotels such as the Bellagio in Las Vegas, Nev.
The top destination, the report found, was Las Vegas, with 330 trips. Second was New Orleans with 173 trips, and third was New York with 102 trips. Fourth on the list was London, which FCC officials visited 98 times. Other popular destinations included Orlando, San Francisco, Miami, Anchorage, Palm Springs, Buenos Aires and Beijing.
The largest industry sponsor of the trips was the NAB, which paid $191,472 to bring 206 FCC officials to its events. It was followed by the National Cable & Telecommunications Association ($172,636) and the Consumer Electronics Manufacturers Association ($149,285). Last November, a group of technology firms paid $2,646 to fly FCC Commissioner Kathleen Q. Abernathy to a two-day conference in Montpellier, France.
The Center also cited "a disturbing dependence" by the FCC on outside information providers. The report found that the FCC's reliance on non-government private data is so ingrained that when public interest groups asked for access to data underlying a series of media ownership reports last fall, the FCC relented only after issuing a quasi-judicial "protective order" meant to keep the information secret.
The Center said that when it was constructing a database of media companies, researchers and reporters that it was repeatedly referred by FCC staff to private companies for basic information on ownership, audience reach and cable subscribers. Getting market share information, which is key when reviewing whether broadcasters are within existing FCC limits, was all but impossible without going outside the agency, the report said.
FCC spokesman David Fiske said the trips are meant to be educational and are reviewed internally to make sure they are ethical. He said the shows and conferences help officials stay current on the technology they regulate.
The Center for Public Integrity is a nonpartisan watchdog group. The study was funded by a $300,000 grant from the Ford Foundation and $100,000 from the Open Society Institute, which is run by philanthropist George Soros.
For the full report visit www.publicintegrity.org.
The latest product and technology information
Future US's leading brands bring the most important, up-to-date information right to your inbox