DTV stragglers may face possible fines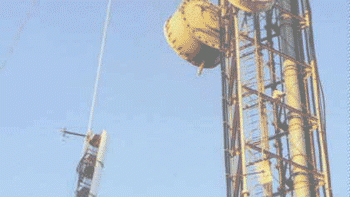 First the good news: Of the 1540 TV stations granted DTV CPs, 552 are now on the air. Two hundred and seventy-seven of those are on the air with their licensed facilities and 275 are radiating with STA or Experimental authority.

Temporary DTV antenna being hoisted up a tower for installation.

Eight hundred and forty-three commercial stations requested extensions of the May 1st deadline for construction of their DTV facilities. Seven hundred and seventy-two were granted, while 286 have already filed for a second extension.
Now the not so good news for a number of the CP holders: The Commission was willing to grant, on a case-by-case basis, an extension of the applicable DTV construction deadline where a broadcaster had been unable to complete construction due to circumstances that are either unforeseeable or beyond the permittee's control, provided the broadcaster has taken all reasonable steps to resolve the problem expeditiously. The Commission was also willing to consider, on a case-by-case basis, whether broadcasters should be afforded additional time to construct their DTV facilities because the cost of meeting the minimum build-out requirements exceeds the station's financial resources. To qualify under that standard, applicants had to provide an itemized estimate of the cost of meeting the minimum build-out requirements and a detailed statement explaining why their financial condition precluded such expenditure. They also had to describe their good faith efforts to meet the deadline, including attempts to obtain the requisite needed financing, why those efforts were unsuccessful and then indicate when it expected to complete construction. Extension Form 337 requires the applicant to make available an audited profit and loss statement for its most recent fiscal year at the time of filing.
Seventy-two broadcasters were admonished for not building out their DTV facilities and not providing what the FCC considered good cause for not doing so. More than 40 percent of those admonishments went to stations owned by the Sinclair Broadcast Group and Trinity Broadcasting Network.
Stations were given until December 1st to comply with the DTV construction rules. Each broadcaster had to submit a report within 30 days of receipt of the notification letter outlining the steps it intended to take to complete construction and the approximate date that it expected to reach each construction milestone. Absent extraordinary and compelling circumstances, the construction was to be completed no later than December 1, 2002. Also,60 days after submitting its initial report, the station had to submit a report detailing its progress on meeting its proposed construction milestones and justifying any delays it encountered. If at any time during this period, the station failed to demonstrate that it was taking all reasonable steps to complete construction or failed to justify the further delays it has encountered, or if the FCC otherwise found that the permittee had acted in bad faith, the permittee would be subject to the imposition of additional sanctions.
The FCC said that failure to complete construction of its DTV facilities by December will be subject to a fine and the initiation of a six-month process, at the end of which, if the DTV facilities still have not been constructed, absent good cause shown, the DTV construction permit will be rescinded. The commission has tentatively concluded that channels confiscated from cancelled construction permits will be re-auctioned. The NAB had stated last May that such sanctions appeared reasonable.
For more information visit www.fcc.gov/mb/video/dtvstatus.html
Get the TV Tech Newsletter
The professional video industry's #1 source for news, trends and product and tech information. Sign up below.