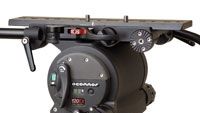 Selecting the right camera support system is critical to a production's success. Fortunately, a myriad of camera support solutions have been introduced recently. Here is a review of some of those systems.
Pan and tilt heads
Miller Camera Support offers a new range of Arrow fluid heads, including the Arrow 25, Arrow 40 and Arrow 55.
The Arrow 25 supports the latest acquisition formats, from the film-ready HDV alternatives to lightweight ENG camcorders. It features 5+5 selectable pan and tilt drag positions to allow camera operators to choose from repeatable light to heavy drag settings. Four selectable counterbalance positions combine with a 70mm sliding camera platform to accommodate camera payloads ranging from 7.7lbs to 30.9lbs.
The Arrow 40 fluid head features seven-position pan and tilt drag selection, four counterbalance positions to suit portable ENG camcorders weighing 15.4lbs to 35.2lbs, rear-mount controls, and backlit illumination on pan and tilt indicators and bubble level.
The Arrow 55 is designed for documentary, lifestyle and HD productions, as well as long-lens shooting environments or in studio EFP configurations. It accommodates a higher load capacity of 22lbs to 55.1lbs. Features include seven-position pan and tilt drag, four counterbalance positions to suit all portable EFP camcorders, rear-mount controls, and backlit illumination on pan and tilt indicators and bubble level.
OConnor recently introduced the 120EX extended capacity fluid head. The unit features a stepless counterbalance system as well as an ultra-smooth pan and tilt fluid drag designed for film-style shooting.
It delivers counterbalance through the full ±90-degree forward and backward range for camera packages weighing from 30lbs to 120lbs. In the EX-mode, the unit can counterbalance up to 240lbs at a tilt range of ±60 degrees, based on an 8in center of gravity.
Panther's Trixy remote head weighs 11lbs and can carry a 33lb camera load. It comes with external motors to drive the lens zoom, focus and iris controls from all lens manufacturers. All motors, including the lens control motor, are controlled via CAN bus. A single cable provides the head with all necessary controls, signal and power. Slip rings allow unlimited movements on all three axes.
Sachtler's new fluid heads — the FSB 2 and the FSB 6 — are designed for MiniDV and HDV users. The units feature three damping steps: horizontally, vertically and zero.
The FSB 2 accepts a payload up to 4.4lbs and features a counterbalance of 0 and 1. The FSB 6 accepts a payload from 1lb to 13.2lbs and is available with either the Snap & Go sideload plate S or with the Touch & Go camera plate. The sideload system gives the camera plate a sliding range of 120mm.
For shooting high-speed movement, Shotoku offers the S-DASH pan and tilt head. It delivers precise response in complete silence via direct drive motors and digital control.
The unit's pan-bar controller takes the form of a small pan and tilt head that can carry a viewfinder monitor TV and standard lens hand controls. Ratio mode allows the operator to modify the response speed of the head and controls inputs up to 2X to produce 180 degrees of camera movement for 90 degrees of input.
The other control option is the joystick, which is a desktop unit for use in production areas, OB trucks and other confined areas. It operates the pan and tilt functions, while a rocker controls zoom, and a rotary knob is used for focus. RS-422 interfaces allow the operator to be up to 492ft away from the camera for improved operator safety and ease of installation.
Shotoku also recently introduced the CMC-400 camera motion control series, which updates aging robotic heads. The series replaces old electronics with a new design and allows the heads to be integrated with the most current Shotoku systems.
Ethernet or RS-422 connections enable direct connection to other manufacturers' robotic pan and tilt heads. Depending on the type of head used, the series can either be mounted directly to the side of the head using the same mountings as the existing head control unit, or it may be wall-mounted using the brackets supplied.
Telemetrics' PT-LWP-S3 is a weatherproof pan and tilt head for outdoor applications. It includes the electronics needed to interface with the company's new compact weatherproof housing, the LWP-HOU. A weatherproof power supply enclosure provides power to the camera. There is direct Ethernet connectivity for networked applications, while a mounting base with internal cable management minimizes external cabling.
For studio applications, the company offers the PT-LP-S3. The pan and tilt head integrates with LCD studio teleprompters, cameras and lenses. It provides camera-operator-like camera movements, and heavy-duty bearings and motors with isolation mounts provide smooth, quiet operation. The unit includes up to 255 presets and is controlled through serial data using RS-232 or RS-422, or through 10/100 Base-T Ethernet.
The head's virtual set interface option includes high-res optical encoder feedback for pan and tilt, as well as Ethernet connectivity and increased load capacity to handle larger teleprompters. The head interfaces to a virtual set lens interface unit, which mounts directly to broadcast lenses and connects through the pan and tilt head to provide high-res positioning feedback of zoom and focus.
Vinten Radamec's FHR-100 Fusion robotic head is designed for use as a standalone device or for seamless integration with the company's FP-145 pedestal and FPH-145 integral height drive and FBH-175 bolt-on height drive. The head has a 121.3lb payload and automatic configuration for directly driving any full servo digital Canon or Fujinon broadcast lens. It contains its own power supply unit, allowing for mains to be taken into the head, eight from the pedestal or directly from the studio supply.
The company's Vector 950 Active head for full-facility studio and OB cameras is suitable for cameras from 35lbs to 264lbs. In addition, Vinten and Canon technology enables precise pan and tilt data from the head to be transmitted to the stabilization system in Canon's long field lenses.
Tripods
For its 100/150mm tripods, Panther introduced a stable metal spreader. It can be transformed quickly into a dolly when used with the 100/150mm tripod. The spreader can be equipped with either studio wheels with brakes and cable guards or track wheels.
Telemetrics' TelePod is a motorized elevating tripod designed for use in a field environment or studio, where a small footprint, quick setup and transportability are important. The tripod consists of a motorized column with collapsible legs that enable the unit to rise to a manual height of 46in, with an additional motorized elevation range of 26in for a total height of 72in.
Movement is controlled remotely from a control panel or locally with a manual up/down switch on the power supply. The tripod interfaces with the company's CP-ITV control panel for RS-232 control of the camera, pan/tilt/zoom/focus, iris and elevation, as well as the company's robotics products.
Battery systems
Anton/Bauer's ELIPZ 10k battery employs high-capacity Li-Ion cells and delivers all-day operating times for a typical 10W handheld camera. It features an under-the-camera mounting design, which allows one face of the battery to quickly attach to the camera through a shoe-type mount similar to quick-change tripod adapters. The other face of the battery has a universal ¼-20 mounting thread, creating a standard interface with monopods and tripods. The battery lowers the camera's center of gravity while handheld.
Sachtler recently introduced the FSB CELL, a 7.2V Li-Ion rechargeable battery for MiniDV and HDV cameras. Fitted directly below the camera, it provides eight hours of shooting time. The battery incorporates the company's Snap & Go camera attachment system into its top and bottom surfaces, ensuring easy connection between the camera and the FSB 2 and FSB 6 pan and tilt heads. The result is safe attachment. In addition, the weight of the battery on the fluid head improves handling for camera operators, ensuring even, steady pans.
Stabilization system
Sachtler's artemis DV Pro FX camera stabilization system fits handheld DV and HDV camcorders. It comes with a sled, vest and arm, and features complete control of all adjustments as well as the flexibility needed for smooth camera movements.
An integrated 7in LCD monitor slides and tilts to optimize viewing and aid dynamic balance. The system offers 16:9 and 4:3 aspect ratios. Its smart monitor automatically switches between NTSC and PAL, depending on signal input.
eight drives
For broadcasters that want extra elevation and the ability to move and mount the height drive on a wide variety of legacy pedestals, Shotoku offers the TI-12 robotic height drive. The unit can extend the range of possible shots in robotic studios from a single camera position, making it ideal for news, sports, current affairs and virtual set studios.
Driven by the company's CMC camera control series, the TI-12 features a height range of more than 39in, with a maximum speed of 4.7in per second. With the company's adapter kits, the robotic height drive is compatible with most spring, gas and pneumatic pedestals made by other manufacturers.
Shotoku also introduced the TI-11 i-Height. Using a smooth and vibration-free elevation column, the unit offers a height range of 23.4in. It's compatible with the TG-18 and TG-19 robotic pan and tilt head, and it uses the same drive electronics and interface to eliminate the need for additional control channels and cables.
Dollies and cranes
The Panther Buddy Dolly displays the base of its EvoPlus camera crane. It can crab and steer but does not come with the electromechanical, computerized column. It can be used with the turnstile attachment or any riser or outrigger via Euro adapter. The dolly has a payload of 550lbs and provides a full range of movement to capture unique camera angles and POV shots.
Panther's Euro-Foxy adapter allows any existing Foxy crane to be used like a jib arm. It can be used as a base with any Panther dolly. With an overall maximum length of 13ft, the Foxy Jib can carry as much as 143lbs.
Trolley systems
The Telemetrics TeleGlide camera trolley system provides fast, smooth and quiet operation, and it is designed to handle heavy loads to accommodate broadcast cameras and lenses. Primarily for use in studio or sports applications, the system is fully compatible with the company's complete line of camera robotics systems.
The system consists of a single or dual trolley for optimal load stabilization. The track is a dual-rail system with connecting brackets. The system is fully servo controlled for smooth operation, with location feedback for preset positioning and motion control. The track is also designed to be cut and curved to user specifications, and it can be floor-, wall- or ceiling-mounted.
The latest product and technology information
Future US's leading brands bring the most important, up-to-date information right to your inbox
Thank you for signing up to TV Technology. You will receive a verification email shortly.
There was a problem. Please refresh the page and try again.