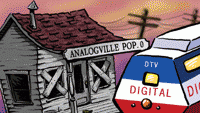 I don't like taking Broadcast Engineering readers to task for their positions and comments, but it's time to remind a few of you that ignoring and even arguing against the digital transition won't win you any friends, and could negatively impact your future.
Way back in September 1997, I wrote my first "get on the DTV train" editorial. It took no great wisdom to predict that the television industry was going to go digital and that everyone had better adopt the technology soon. Well, we've come a long way in those five years. That DTV train has left the station and is now merely a dot on the horizon. Are you on board?
Most readers understand that technology continually moves forward and that DTV not only will happen, but is already well on its way to full reality. From consumers to cable, everyone is embracing digital for all it's worth and wanting even more. No, analog isn't dead. You may still be able to buy LPs, but there sure isn't much demand for them, is there? The same goes for analog TV.
Unfortunately, a few continue to ignore reality. I received a letter last week from a reader spouting that HDTV was a solution looking for an application. He is wrong. Consider these facts.
HDNet just announced their HD coverage of the SKUSA Super Nationals via DirecTV. ESPN announced that it's adding an HD network next April. The network, ESPN-HD, will be a high-definition simulcast of ESPN. The network is planning 100 live telecasts of selected major league games. ABC has announced it will broadcast the Super Bowl, the Stanley Cup finals and "Monday Night Football" in HD beginning in 2003. All this means that the top networks are providing significant HD material. (Too bad FOX can't figure it out.)
And, viewers are buying HD sets. DTV product sales are up 81 percent from last year. Spend an hour in your local electronics outlet. Watch consumer after consumer buying HDTV sets. Sure, many buy the HDTV sets because they're cool and DVDs look really good on them. But, you can bet that when they discover that HD is available over the air or from cable, they'll want it in their home.
But consumers aren't the only indication that digital is here to stay. I often use system integrators as sounding boards. Companies like The Systems Group, Doyle Technologies, Professional Communications Systems, AZCAR and others are staffed with some of the smartest people around. When I wonder where technology is going, I ask these folks.
I have to tell you — these companies aren't building any big analog facilities.
Now, if you still think that DTV and HD are technologies looking for an application, you might want to consider a career change.
Send comments to: •editor@primediabusiness.com•www.broadcastengineering.com
Get the TV Tech Newsletter
The professional video industry's #1 source for news, trends and product and tech information. Sign up below.