Television on demand from Sun Microsystems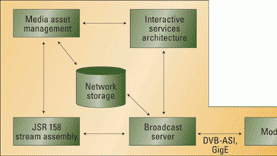 TV, as we know it, is rapidly evolving in countries worldwide and in your very own neighborhood. Indeed, there is a global transformation of television underway toward an on-demand, interactive services model. This model comprises several elements:
Interactive TV: Already, tens of millions of households worldwide are receiving interactive TV services, and interactive services have become a near-universal component in new television network infrastructures around the world.

Figure 1. To implement a services architecture that will enable deployment of an on-demand infrastructure, it is essential to examine how the basic system functionalities will best interconnect as components.

Video on demand: Rapidly moving from a multi-year trial period, video-on-demand services have progressed to a deployment phase in the United States and elsewhere. Driven by price-per-stream economics and internetwork competition between cable, satellite and even broadband IP networks, VOD services are finally seeing their day. Video networking: Video itself is becoming a service, with the ability to build, transform and splice the digital video signal in the network itself.
Three fundamentals point the way to realizing the potential of TV services:
a foundation that addresses the core on-demand value proposition with the dynamics of volume computing
an infrastructure based on an open systems environment of multi-vendor standards
an ecosystem leveraging a services-on-demand architecture
The on-demand value proposition
Price-per-stream economics is the underlying deployment driver of the on-demand model.
Today, people are thinking in terms of a few hundred movies; soon, they will be thinking of more varied subscription VOD and content offerings and "network PVRs" – network-based services that record TV once on the backend for all subscribers on the network, rather than requiring each to separately record locally.
Core drivers for the dynamics of price-per-stream economics are volume network interfaces like Gigabit Ethernet, which is rapidly becoming the input interface for a new generation of GigE QAMs for on-demand video delivery.
Building the open systems environment
Just as the dynamics of volume computing provide the foundation for on-demand opportunity, the philosophy and practice of open systems provides the infrastructure. (See Figure 1.) An open systems environment encompasses layers of standards, each addressing different functional aspects of the distribution and business process value chains. A few of the standards-related activities of particular relevance to building out open, multi-vendor on-demand opportunities include:
DVB-MHP and Java technology-based ITV
Interactive Services Architecture (ISA)
Java Specification Request 158
Finally, upon a volume foundation and an open-systems infrastructure, an ecosystem can emerge of service providers, content providers, equipment vendors and operators. It will likely have elements of appliantization, i.e., productized solutions with open interfaces that are ready to deploy and minimize systems integration and deployment risk, and services on demand, like the Web services enabled by the Sun ONE architecture.
Rob Glidden is market development manager of broadband and digital media for Sun Microsystems.
The latest product and technology information
Future US's leading brands bring the most important, up-to-date information right to your inbox
Thank you for signing up to TV Tech. You will receive a verification email shortly.
There was a problem. Please refresh the page and try again.