NBC begins central-casting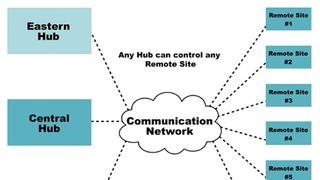 Cost savings can be achieved through the consolidation of personnel from five or 10 stations into a single facility.
With the spiraling costs of doing business, facility owners are looking for new, less expensive ways of doing business. One such approach is to co-locate facilities and personnel while serving the needs of several markets. Although this approach is not entirely new, let one of the networks do it and it's like Columbus discovering America; he wasn't the first to do it, but he's the one who gets all the credit.
Looking very much like the direct-to-home (DTH) satellite operators and the multiplicity of cable companies across the country, group owners big and small are moving to consolidate their operations under one roof. The DTH and cable industries have been employing the "single point of control multichannel" configuration for many years.
NBC has now begun central-casting. The long-range plan is for NBC to automate all its O&Os in the U.S. Programs and interstitials will be stored and played from three hub sites, New York, Miami and Los Angeles.
The first phase of the implementation is in Miami. From there they will eventually run everything but local news to their O&Os in Birmingham, AL; Raleigh, NC; and Dallas. Network and syndicated programming will be transmitted to the spoke station sites by redundant fiber links. Final switching will occur at the spoke stations to merge news, local programming and last-minute promotions produced at the station. Commercials will originate from the hubs.
The spoke stations will send local commercial material and promotions via FTP to the central server from on-site video servers acting as caches. News programs that are to be rebroadcast will be streamed to the hub's central servers over fiber optic landlines. During regional news and other local live programming, the stations will use control panels at the regional sites to trigger the computers at the central site to play break material.
The control system is completely redundant, with no single point of failure. Special features include handling of multiple time zones and the ability to seamlessly mix video material from the hub and spokes within a single break. News departments will update playlists located at the hubs using their local terminals in the production suites or at the assignment desks.
According to Florical, whose software will be running the NBC hubs, cost savings can be achieved through the consolidation of personnel from as few as five to 10 stations into a single facility, with the exception of the news department, the local sales personnel and an on-call transmitter engineer. We can thank modern technology for making this all possible, specifically in the area of computer control system software and hardware, not to mention the growing availability of fiber and satellite bandwidth. In addition to realizing savings from centralizing its traffic and accounting departments, NBC says it will significantly reduce the capital expenditures for digital television equipment that would be spent without the hub/spoke concept.
While the cost savings are attractive, there are several technical challenges not found in typical automated station operations that must be met by the technical automation system:
Multiple time zones controlled from the hub site;
Signal path delay between the hub and stations;
Zero timing to match timing between video and audio originating at different sites;
Master/slave operations to handle manual timing of common programming and regionalized commercial breaks;
Multiple switchers in serial path; and,
System recognition of location of sources.
Personnel costs are a heavy cost to a TV station. Central-casting can save 20 to 40 percent of total personnel costs by consolidating technical operations, traffic, accounting, promotion, programming and shipping/receiving. Note that the news department is excluded, but there is the potential for centralizing the national portions of a station's news and sports presentations.
Television for the visually impaired
People without vision impairments are not as apt to realize how television program material that is highly visual — with lots of action and little or no dialogue — can be nearly incomprehensible to someone with impaired vision. Video description, a narrative of the key visual elements in a television program, is not entirely new. Both PBS and the Turner Classic Movies channel provide a service though which narrations for the visually impared are inserted at natural pauses in the dialog of the program. Due to the infrequency of this type of programming, the FCC has placed requirements on the networks to address this issue. This new rule is part of a broader FCC effort to make technology more reachable to people with disabilities.
On July 21, 2000, the FCC adopted video description rules that will make television more accessible to people with visual disabilities. These rules will commence with the calendar quarter April to June 2002 (Docket 99-339). Using the same logic that inspired the FCC's plan to move from analog to digital, the law requires broadcasters affiliated with the ABC, CBS, Fox and NBC networks in the top 25 television markets (as determined by the Nielsen Designated Market Areas, or DMA, rankings) to provide a minimum of 50 hours per calendar quarter (roughly four hours per week) of described primetime and/or children's programming.
The FCC is also requiring multichannel video programming distributors (MVPDs), such as cable systems and satellite systems, with 50,000 or more subscribers to provide video description for the same amount and type of programming on each of any of the top five national nonbroadcast networks they carry, as determined by national prime time audience share.
In addition, the FCC also says that "Any broadcast station, regardless of market size, will be required to pass through any video description it receives from a programming provider if the broadcast station has the technical capability necessary to do so." This applies to MVPD players as well.
The Commission also ruled that any broadcast station or MVPD that provides local emergency information as part of a regularly scheduled newscast, or as part of a newscast that interrupts regularly scheduled programming, "will be required to make the critical details of this information accessible to persons with visual disabilities in the affected local area." This includes narration for those facilities that put up emergency information in the form of crawls or scrolls.
Send questions and comments to:larry_bloomfield@intertec.com
Get the TV Tech Newsletter
The professional video industry's #1 source for news, trends and product and tech information. Sign up below.