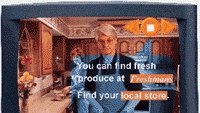 The United States has about 70 million homes receiving cable TV and about 15 million homes receiving satellite TV. Over the next 10 years the entire world will switch to digital TV broadcasting. The drivers for switching to DTV are: consumers, politics, and television broadcasters gaining from cost savings on bandwidth, greater business opportunities and potential for greater revenue streams.

Enhanced TV allows viewers to activate via remote control on-screen information that is displayed alongside the program.

Digital interactive TV is now entering a new phase in its development. Much of the experience thus far has suggested that the initial walled garden services are not being used as much as expected. There is still inertia about shopping and banking through the TV – as the TV remains primarily an entertainment medium. This has increasingly led broadcasters into trying to understand where the revenue is going to come from, and indeed, how we are going to make money with DTV.
Certain programming such as "Big Brother" and Wimbledon sports broadcasts have started to change the levels of interactive usage, bringing in large audiences. Various applications like interactive ads, Web TV, and interactive games, sports and weather are also in demand.
There have been a number of comprehensive studies of viewers' attitudes in regards to the wide array of iTV services and applications. The industry is starting to build a composite picture of the types of services that are generating revenue, and a profile of the type of viewers adopting these services. Studies have found that viewers will interact with programs provided that the interaction is under their own control and choice. Informational enhancements allow viewers to receive information on demand about the program. Viewers also like to use the interactive enhancement to "play" along with the program and provide answers to poll questions or vote.
Enhanced TV as a revenue generator
Enhanced TV allows viewers to activate via remote control on-screen information that is displayed alongside the program. It also displays such items as program-related information and advertising messages.
Broadcasters' first steps into enhanced TV have enabled us to see how different channels and different categories of programs are utilizing this new functionality. There are those looking to enhanced TV to increase program and channel revenues. Many are looking to engage the viewer directly, to find out something from them that feeds back into the program; others want to provide some sort of gaming and added-value entertainment to the program.
Game shows appear to be one of the most obvious examples of how enhanced TV can be employed. As viewers, how often do we think we know the correct answer, or believe we would have triumphed where others failed? Gambling, game play and voting will be some of the key models of enhanced TV.
It's been no real surprise that kids are early adopters of new technologies. In fact, Nickelodeon has been using enhanced TV to try and ascertain what type of programming kids want to view. Viewers were allowed to vote on a choice of programs every half hour to determine what was shown next on the channel.
Kids were given different methods of voting for their favorite program. In addition to voting via interactive TV, they could vote by telephone or online at the Nickelodeon Web site. Their aim was to increase viewer retention through interactive content and ultimately lead to increased revenue. Nickelodeon found that during the week more than 290,000 votes were cast via the remote control, while 180,000 were cast via the telephone and 60,000 via the Internet.
Music has been another area with experimentation in iTV. MTV has tried several ideas, from generating revenue via phone lines to posting updates and hosting competitions. MTV plans to launch a full 24-hour enhanced TV service in the first half of next year, with ambitious plans for t-commerce and creative interactive sponsorship opportunities.
What will drive revenue?
The reasons for adopting digital TV center around the desire for more and better channels and programs, and improved picture and sound. Interactive services such as Web access, e-mail and home shopping are primarily seen as additional benefits, not core reasons for adoption. This is not to say that interactive TV won't play a more prominent role in the future.
With enhanced TV, the industry is starting to build a more composite picture of the key reasons for wanting to interact. One study reports that the main drivers for using interactive features include increased involvement in programming, a need for information and updates, and the need to improve enjoyment of linear programming.
These factors are endorsed by the findings of a report from Van Dussledorp & Partners. Audience patterns reveal that participation and direct involvement are important motivations behind iTV service consumption. Having the opportunity to vote and express personal qualities through quizzes and text messages are emerging as the key themes of interactive TV. In order to attract new users and lead to a gradual change in user television behavior, iTV applications should be simple, relevant and avoid complex content and interfaces.
Successful iTV applications that will deliver revenue have to offer highly entertaining content with broad market appeal through intuitive interfaces.
Digital TV can offer the consumer better quality pictures, sound, interactivity and a greater choice of television channels. The technology gives the broadcaster more bandwidth, thereby offering opportunities to broadcast new PPV channels targeted at specific audiences, such as MTV and the Medical Channel. Adding iTV capability further allows targeted advertising to specific population demographics and regions.
Broadcasters need to start working together with technology companies to harness and understand what is possible with this new digital TV platform. Because DTV is a combination of computer and broadcast technology, the possibilities for new ideas appear to be endless. To be successful, broadcasters are going to have to rethink their current broadcast model. However, thinking outside the box will result in greater options and more revenue than ever before.
Kenneth Helps is the corporate director of Cabot Communications,
.
Get the TV Tech Newsletter
The professional video industry's #1 source for news, trends and product and tech information. Sign up below.