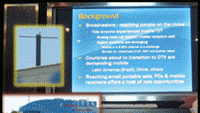 In recent months this column has been exploring the rapidly evolving landscape of digital television in an effort to put the prospects for the long-term viability of terrestrial broadcasting in the United States into proper perspective. That perspective came into sharp focus at the recent NAB conference and exhibition in Las Vegas.

The main image of this composite of the mobile 2-VSB demonstration at NAB shows the inside of Microsoft's mobile theater vehicle, used to demonstrate their Windows Media technology. An image of the outside of the vehicle is inset on the bottom left, and a close-up of the antenna used to receive the 2-VSB transmission is inset on the upper left.

Next month, Broadcast Engineering will provide full coverage of one of the most interesting shows in years; this month we will serve up an appetizer, relating some of the things that transpired in Las Vegas to the topics covered in this column since February.
In February we examined the impact of the geometric progression in computational resources described by "Moore's Law" — an observation by Intel's Gordon Moore that computational resources would double at 18-month intervals for the same cost. It was noted that there are now four to five times the computational resources available than in 1995 when the MPEG-2 video compression saw its first commercial use. Eight years later, the MPEG-2 compression standard has been fully exploited. At least four next-generation compression standards now seek to replace MPEG-2, including a new MPEG standard, MPEG-4 part 10, also known as Advanced Video Coding and ITU standard H.264. These next-generation compression technologies drew considerable attention at NAB 2003.
In March we examined the efforts underway in the ATSC to develop compatible enhancements to the 8-VSB modulation standard; the decision was still pending when we went to press. Taken together, these improvements in compression and modulation enable an opportunity to leapfrog the first generation of digital television standards. Just weeks before NAB, a consortium of countries including China, Brazil, Argentina, Chile and India announced that they are developing a "non-aligned" standard for digital terrestrial broadcast. An early prototype of one of the systems being evaluated was demonstrated at NAB.
In April we examined the techno-political landscape in which U.S. broadcasters operate. It was suggested that a new distribution food chain for television content is being developed; one in which broadcasters will be relegated to the bottom of the barrel as the big media conglomerates consolidate their grip on the creation and distribution of television content for the masses. At the NAB Chairman's Breakfast, FCC Chairman Michael Powell talked about the golden age of television broadcasting using the term "The Golden Oligopoly," to describe an era when ABC, CBS and NBC dominated the landscape. This term was quickly picked up by broadcasters, who are concerned that a new Golden Oligopoly is forming as a result of media consolidation. It was noted that the big four, Disney (ABC), GE (NBC), Viacom (CBS) and Newscorp (FOX) now control nearly 80 percent of the television audience again, as they gobble up cable networks and rights to popular sports franchises. Needless to say, media consolidation was a major subject of discussion as the FCC prepares to release updated radio and TV ownership rules June 2.

This is a Nokia publicity photo of the Mediascreen receiver demonstrated at NAB in 2000. The transmission was a DVB-T (COFDM) using hierarchical modulation as explained in the article. The receiver handled both portable and mobile reception all around Las Vegas.

Goin' mobile
One of the main competitive advantages of terrestrial digital broadcasting vs. cable and DBS is the ability to serve receivers that are not tethered to a fixed antenna or cable. A digital broadcast system is agnostic to the content that it carries. A properly designed system can carry audio services, television services and data services, and it can dynamically reallocate spectrum resources to support a mix of services for fixed, portable and mobile receivers.
This is the potential that many countries, just now evaluating digital broadcast systems, seek to exploit. Three years ago a hierarchical modulation system based on the DVB-T standard was demonstrated at NAB. That system provided about 12Mb/s of data throughput for fixed receivers, and nearly 6Mb/s of robust data for portable and mobile receivers. A Nokia Mediascreen receiver with simple whip antenna was used to demonstrate both portable and mobile reception; the system worked quite well, both inside the convention center and traveling down I-15 at 75 miles per hour.
Several weeks prior to NAB, the consortium of countries listed earlier announced that they are developing a new terrestrial broadcast system with portable and mobile capabilities. And it was learned that one of the partners in this venture is U.S.-based Linx Electronics, which demonstrated a significantly improved 8-VSB receiver at last year's NAB. Recent tests of the Linx receiver technology in the United States and Canada have shown significant progress in dealing with reception in severe multipath-impaired environments, such as downtown Chicago.
Several weeks before NAB, reports surfaced of testing of a 2-VSB modulation system in Shanghai, China. These reports suggested that the system was performing at a level equal to or better than the DVB-T system that is delivering television content to busses in Shanghai. Then it was announced that a nearly identical system would be demonstrated at NAB. The system is called a half-rate system, as its total throughput is 9Mb/s, roughly half of the 19.3Mb/s throughput for 8-VSB. All of these bits were said to support both portable and mobile reception. According to a white paper available on the Linx Web site, like DVB-T, the 2-VSB system can support a mixture of services that are more or less robust for fixed, portable/mobile, and low complexity data receivers.
Several U.S. companies participated in the demonstration. Linx provided the modulator and receivers. Microsoft provided two bitstreams compressed using their WMV9 compression technology, a 5.8Mb/s stream of 1280×720@24p HD source with 5.1 surround sound, and a 1.3Mb/s standard definition real-time encoding of the NTSC feed from KFBT, the Las Vegas Sinclair Broadcast station used to host the full-power digital broadcast. Microsoft also provided a "mobile theater," which is normally used to promote their Windows Media technology. The van was outfitted with a single cross dipole antenna, about 12 inches in diameter, feeding a Linx receiver. Spectra Rep hosted an off-air demo in the Microsoft booth using a rooftop antenna. Linx used a cross dipole antenna to receive the broadcast in their booth.
Unfortunately, the demonstration was plagued with glitches. One of the major contributing factors was multipath interference. Looking at a spectrum analyzer, one could see strong (near 0dB) echoes, apparently reflecting off of the huge hotels along the strip. The Linx receivers connected to the fixed and indoor antennas were able to deal with this, but the mobile demo was plagued with frequent breakups, due to a combination of factors. As the cross dipole antenna moved through the constellation of primary signals and echoes, it would alternately lock onto one or the other. Depending on where the vehicle stopped it might lose signal, while moving just a few feet would restore service. The problem was compounded by the structure of the HD stream prepared by Microsoft. The stream used a long GOP structure of about 10 seconds. If the receiver buffer emptied out due to loss of signal, it could take up to 10 seconds after re-establishing lock to refresh the buffer and re-establish picture. Audio service was somewhat more reliable, as was the 1.3Mb/s SD stream.
According to Linx and Microsoft, the mobile reception problems can be overcome using a diversity antenna system. While this is the most promising demonstration of robust reception of a single carrier transmission system to date, it clearly did not equal the DVB-T demonstration that took place three years earlier.
While the demonstration did little to impress the NAB audience, it does demonstrate that the consortium working to leapfrog the ATSC and DVB-T standards is making progress. There are several key issues that are being addressed in the systems developed by this international consortium:
Evolutionary advancements in the underlying digital modulation and video coding technologies
The development of new intellectual property that will allow them to bypass the royalties associated with the implementation of "first generation" digital terrestrial broadcast (DTTB) standards such as DVB-T and ATSC
The ability to deploy DTTB systems that are more flexible and cost-effective than first-generation standards. (This is of particular concern to the developing economies of the countries involved in this development partnership.)
It is still too early to tell what impact, if any, this may have on countries that have already committed to first-generation standards. There are already strong indications that DBS systems around the world may leapfrog themselves and move to next-generation compression technologies, replacing the millions of set-top boxes they have deployed. In turn, this is likely to force the cable MSOs to do the same to prevent further erosion of their subscriber base. Meanwhile, U.S. broadcasters seem resigned to having cable and DBS deliver their bits to the masses.
With all of this going on, the ATSC is moving the ball forward on the compatible 8-VSB enhancements that it has been considering. The proposal from Zenith and ATI Technologies has been advanced to a ballot of the T3 technology committee. If it survives this ballot it will then be presented to the entire membership for ballot. This enhancement will reduce the 8-VSB payload by 3Mb/s in order to provide a robust channel with 1.5Mb/s throughput. It is claimed that portable receivers and indoor antennas can receive the robust channel reliably, but it does not support mobile reception.
Craig Birkmaier is a technology consultant at Pcube Labs, and hosts and moderates the OpenDTV Forum.
Web Links
Linx Electronics White paper on 2-VSB system:
www.linxelectronics.com/pdf/Adtb.pdf
Send questions and comments to:cbirkmaier@primediabusiness.com
Get the TV Tech Newsletter
The professional video industry's #1 source for news, trends and product and tech information. Sign up below.