KPIX-TV animates with Curious World Maps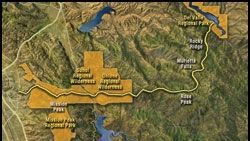 With Curious World Maps, KPIX is able to add satellite imagery, 3-D and natural earth options to location graphics.

In the competitive world of broadcasting, it is important to find new ways of informing a demanding public. This is particularly relevant when it comes to delivering information and news content, as this is one area where viewers have no qualms about voting with their remotes.
KPIX-TV CBS 5/UPN Bay Area Television understands the importance of serving its viewers. The station covers the San Francisco, Oakland and San Jose tri-city area, broadcasting to the country's sixth largest market with more than two million television households.
The station emphasizes delivering comprehensive, succinct and clear information in a timely manner because that's what viewers expect. But that's not all the station focuses on. The design department strives to subliminally create a visceral appeal through relevant, interesting packaging, which is where the need for good graphics software comes into the equation.
One way to bring content to life is by using map graphics. Whether it's a news story, a documentary or a commercial, viewers like to visualize the location so they can identify where the story is happening. However, creating map graphics, especially for breaking news where the situation is constantly changing, can be time-consuming without the appropriate tool.
This was the problem KPIX faced. We wanted to create visually stunning maps that carried the station's identity and brand, but we also wanted the ability to update them for breaking news. We also hoped to animate our maps and incorporate satellite imagery and 3-D in an effort to compel viewers and add relevance to the storytelling.
Prior to acquiring suitable software, our graphics staff would create maps by scanning supplied materials from producers or acquiring digital maps from the Web. The next step involved tracing the entire area, including specific details, into a paint program and manually filling in the styles to match the station's look. The time involved in this process was tremendous, and if the story changed or the information needed to be altered, show deadlines could easily be jeopardized.
The only other solution was trying to anticipate potential need by building a library of pre-built maps. These libraries became cumbersome, and the station never seemed to have exactly the right map — or if it did, the area of interest would be jammed up in the corner, and there would be no time to build it again.
We found a solution to the problem in 2001, when Curious Software launched Curious World Maps Version 1.0. KPIX was one of the first stations to acquire the software, and since then, we have regularly upgraded to each new version. We also added satellite imagery, 3-D and natural earth options to enhance the overall presentation of the maps.
Installation was straightforward. The software is CD-based and works on both Macs and PCs, depending on the format required. It comes with a comprehensive manual that our design department found easy to follow. The design team had telephone access to the company's software experts in case of any teething problems.
The software works by allowing designers to create a master style sheet that can be used as a template to create still or animated maps. Users can tap into built-in vector databases comprised of detailed outline data for countries, regions, states and counties. The program also includes more than 150,000 place names covering towns, mountains and other physical features such as rivers, lakes and roads. Imported local data or satellite images can be incorporated, making it simple to create an animation that zooms in from a spinning globe right down to a single building, all within a few minutes.

The designers at KPIX use Curious World Maps to create a master style sheet that can be used as a template to create still or animated maps.

Once the preformatted style sheet was set up, we had full autonomy. The program has proved to be powerful and has given us total creative control of map graphic production. Where once it took a designer several hours or more to build a detailed information graphic with animation, it is now possible to achieve the same task in half the time or less and still have the ability to change with the story.


Recently, we started using the software on an internally produced show called "The Great Outdoors with Tom Stienstra," which highlights local areas of interest in the tri-city region. This weekly program averages four to eight maps per show, including animation and 3-D. The first graphic highlights the point of interest in a wide-angle map in relation to the tri-city area in order to establish a quick frame of reference.
The maps that follow vary depending on the region and geography. If illustrating mountainous areas, we might show a 3-D model; if highlighting multiple locations, we will fly around with an animation while maintaining elegant movement. Sometimes our design department likes to use 3-D maps mixed with imagery as a scene setter, as this is a captivating and compelling way to add relevant and interesting packaging to the story. Curious World Maps allows us to achieve great results without a lot of overhead and long rendering times, especially when using a properly equipped PC.
Another advantage of the software is its compositing capabilities. Users can import graphics files such as highway symbols or client logos directly from Adobe Photoshop and maintain all the functionality of the art files as though they originated from within the application. It is also possible to import or export 3-D topographical files and geo-referenced image documents in some of the more established formats.
The software's open architecture gives us the flexibility to pick and choose what we want to do within each program and what we want to handle with other tools. It is straightforward to use. All of our designers can operate and build maps using the program. Curious World Maps has transformed the landscape of location graphic creation for KPIX CBS 5/UPN Bay Area Television.
John Schroeder is the design director at KPIX-TV CBS 5/UPN Bay Area Television.
The latest product and technology information
Future US's leading brands bring the most important, up-to-date information right to your inbox
Thank you for signing up to TV Technology. You will receive a verification email shortly.
There was a problem. Please refresh the page and try again.