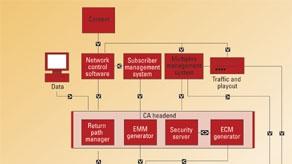 Video on demand (VOD) and interactive television (iTV) currently seem to be popular topics with broadcasters.
When it comes to multicasting, the FCC says a television station is only required to transmit its main channel in the clear. Depending on the quality of service needed and the type of multiplexing used, a station can transmit more than a dozen channels to serve almost any need, purpose or audience. Cable and multipoint distribution systems have been generating revenue by subscription and pay per view (PPV) for decades.
Other potential revenue generators include near video on demand (NVOD) and subscription video on demand (SVOD). But marketable content is critical to making any of these services successful.
The term "pay per view" usually conjures visions of movies, concerts, sports and other special events, but why not add to that educational opportunities or other non-entertainment applications?
In addition to the DTV approach of over the air (OTA) multicast, there is also the option of offering VOD/PPV and iTV material using the Internet. If real-time delivery is not necessary, VOD can offer QoS that could exceed that of HDTV, provided end users have storage and playback facilities in place to accommodate it. As the quality of IP delivery improves this could become an important alternative delivery approach.
iTV is slowly coming into its own also. There's little question that iTV will make use of both PSIP and IP to afford full two-way digital communication.

An integral part of utilizing PPV/VOD for revenue generation is having mechanisms such as the system shown above in place to control access to material and handle billing. Image courtesy NDS.

The University of California at Berkeley, for example, has a VOD system that is designed to provide access to a large amount of video information over computer networks. Clients can submit requests over the Internet to the VOD system to view audio, video and graphical streams. Data is then streamed from a media file server through the network to the client's computer.
CNN has a rather impressive VOD service available on the Internet, as well as by subscription to other delivery technologies. This technology could be scaled down to fit the needs of a local or regional operation.
If broadcasters wish to get paid for their on-demand services, they need to maintain control of the content. Figure 1 (on page 22) shows a typical demand video system for hire. Whether the delivery method is terrestrial, broadband, hardwire or satellite, conditional access is important to the delivery of content.
A subscription management system (SMS) can be used to grant access to the method of distribution. Once there is a subscriber base, the next level of control grants conditional access to specific material and provides a level of protection to the producer of the content. This is key in light of concerns about copyright protection and intellectual property rights.
Conditional access systems determine the time, delivery method and length of subscriber access to the selected material, ensures they get billed for that access, and protects content from unauthorized viewing.
There are a number of ways of letting subscribers know what is available for purchase, including a menu or GUI where selections can be made. Some systems rely on a set-top box with a smart card that the end user addresses. Other approaches require the subscriber to call in to select what they want to see. Both record the choices for billing purposes.
Broadcasters wishing to implement on-demand video services must have access to the material they wish to distribute, either in-plant or from one of several "networks" offering these services.
Video servers are becoming a mainstay in most television facilities and can be used to provide local access to material for on-demand services. The capacity and the number of output ports are the only limiting factors in granting access to a video server's contents.
Purchasers of an automation system would be well advised to find out if their intended system will accommodate SMS, CA and other such add-ons; some of the better known names in this field will not at this time.
Cable and DTH operators have found PPV and NVOD lucrative and many are introducing iTV. Broadcasters might do well to give some consideration to this method of generating revenue.
Larry Bloomfield is a consultant in the broadcast industry.
The latest product and technology information
Future US's leading brands bring the most important, up-to-date information right to your inbox
Thank you for signing up to TV Tech. You will receive a verification email shortly.
There was a problem. Please refresh the page and try again.