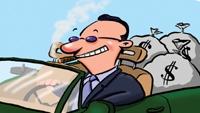 Apathetic GMs
Bravo, bravo! I applaud your [July] editorial because it is right with regard to the general attitude of TV station management concerning the DTV transition. There are some exceptions to your characterization, but unfortunately, only a few.

Opportunity missed?

For example, we DTV early adopters in Dallas/Fort Worth only hear from the engineering staffs at TV stations with regard to our HDTV and DTV viewing experiences. Many of these engineers are extremely helpful. They offer recommendations regarding antenna reception (which is quite good) and provide other useful information on DTV.
To my knowledge, however, none of the GMs of the local TV stations has made any attempt to talk to or communicate with any DTV viewers. Why? Don''t you managers think our direct feedback might be helpful? I guess it would, if you were really interested in, or cared about, DTV.
Access any of these TV stations'' Web sites, and there is hardly any information promoting DTV and the great high-definition broadcasts readily available in our market. It''s as though DTV and high-definition programs are some deep, dark secret known only to the small but growing number of assertive DTV purchasers/viewers.
Those assertive DTV purchasers, by the way, can readily find great new HDTVs for a lot less than $3,000. With a little time and patience, a smart consumer can find a good, fully integrated (ATSC tuner included) HDTV set for less than $2,000.
None of the sales and marketing staffs of the local TV stations here have any clue regarding the size of the local DTV viewing audience, and they aren''t making any attempt to find out. What''s the matter, folks? Are you afraid that if you went to any effort to actually investigate you might discover that there might really be a large enough audience to make it worth your while to develop DTV advertising targeting early adopters?
Having a GM take the time to initiate any effort to canvass local electronics stores to get an idea of how many DTVs have been sold, and initiate cooperative marketing efforts with local television retailers, would require enthusiasm for DTV, and forward thinking. One never knows the dangers involved with such an exercise. Someone just might eventually make money or discover a real business plan for DTV! And that would require too many station managers to take their heads out of the sand and become real leaders in the transition to DTV.
Tim Werner
DTV owner and freelance SDTV/HDTV videotape editor
NBC and miniDV
I wonder what your reaction is to NBC''s recent move to miniDV for much of their network news field production. In case you haven''t heard, the NBC News Dallas Bureau has been designated as the test bureau for the consumer-grade format, and they have told freelance camera crews in the Southwest that they will now accept only miniDV pieces for Nightly News and Today. The bureau has been issued Sony VX-2000s for staff use. NBC''s Dateline has also begun to occasionally use miniDV as an acquisition format for entire segments. I''ll certainly admit that Betacam''s days are numbered, but I never expected that one of the broadcast networks would choose to replace it with miniDV! I had expected (hoped) that when the network news divisions changed to a digital format for field production, it would be HD, or barring that, DigiBeta or DVCPRO50.
Name withheld by request
More on PAL
Dear Michael Robin:
I work for the CNBC channel in India, and I read your column regularly. I have a question about your June article on digital composite signals. Could you suggest a Web site or another article where I could get information about PAL digital signals?
Thanks and regards,
Rajesh Potphode
CNBC channel, India
Michael Robin responds:
Dear Rajesh:
Here are some suggestions concerning the PAL documentation that you are looking for. First, I would suggest consulting EBU Technical documents 3280 (Digital PAL Interface) and 3267 (Interface for Component Digital for 625-line 4:2:2 Signals). These documents are easily accessible on the EBU Web site, www.ebu.ch. Second, my book, Digital Television Fundamentals, covers analog PAL (pages 62 to 77) and digital PAL (pages 151 to 162). Component digital signals (both 525/60 and 625/50) are covered on pages 169 to 211.
Regards,
Michael Robin
The latest product and technology information
Thank you for signing up to TV Tech. You will receive a verification email shortly.
There was a problem. Please refresh the page and try again.