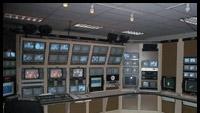 The definition of "automation" is currently in transition. Once only applied to on-air operations, the term is now being used to describe systems that can control every aspect of a station's operations, including commercial acquisition and newsgathering (as "ingest" functions), segmenting, scheduling and billing of spots, and even general accounting functions.

Master Control Room Three at WWOR in New York uses Florical Automation to originate broadcasts for the UPN affiliates in New York and Baltimore.

The master control operator still handles switching of on-air programs, but that is changing fast. Today, broadcasters can purchase a system that does everything from swinging the satellite dish around to record the event to printing and mailing the invoice to the ad buyer.
Starting out with one of the larger vendors, Harris, will give an idea of just how much some systems can do. Harris calls their overall system the Resource Suite, which contains subsystems that perform different functions. They all tie together, talk to each other and even talk to other vendors' products. This is common, because no one wants to dump a multi-thousand dollar nonlinear news editing system because it won't work with the automation. Harris promotes their products as "end-to-end" solutions. As soon as the raw tape is edited into a package, or the spot enters the house, the system takes over, and via its "Workflow Management" section, takes care of everything needed to get the event on the air. It will even update the news rundown if a package runs over scheduled length.
Encoda introduced a new idea to TV automation: a dealer-only system. The company's product lines fit the needs of facilities ranging from a small-market UHF facility to a large multi-distribution cable network plant. The company decided that its Series A5000 system could be sold, installed and supported by dealers. The A5000 is based on the larger A7000, and uses many of its modules, so users of the smaller system can take advantage of system improvements offered to larger customers.
Florical, another provider of automation systems, offers products running the gamut from the LT series, designed to be affordable for the smaller user, up to ShareCasting products, which address centralcasting needs. The company believes that the future of viewer-delivery systems is the multi-stream, single-facility model, and is working hard to ensure it becomes a major player in that arena.
Crispin also has full automation capability and provides "sizing" for different users. Their modules are designed so that they will add onto existing systems as seamlessly as possible. They also provide news automation with their NewsPlayX products.
Titan is the newest top-of-the-line system from Sundance Digital. Originally a vendor of MAC-based editors, Sundance's products evolved into the FastBreak system, which was introduced in the early 1990s as a server-based commercial inserter. The company also has a new product called SegmentShare, which allows users to segment an event at one location and transmit that data to other locations. This means one central place, such as a station owned by one company, can take care of all the details needed to segment a program and then send this data to other company-owned stations. It's designed to eliminate unnecessary duplication within an organization.
Artesia, which is now up to their fifth generation of asset management products, released a new version of their software designed to provide a rapid learning curve. PCs are used as controller stations with access to the necessary servers via the Web or by means of other connectivity. Artesia uses their extensive background in industrial software to create their broadcast software.
Paul Black is owner of Media Technical Consulting.
The latest product and technology information
Future US's leading brands bring the most important, up-to-date information right to your inbox
Thank you for signing up to TV Tech. You will receive a verification email shortly.
There was a problem. Please refresh the page and try again.