Top Considerations for the Future of Live Production
The cloud is the answer to delivering dynamic content efficiently, while giving production staff the flexibility they seek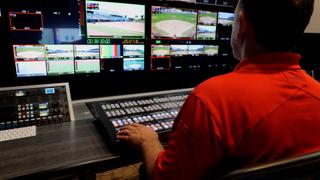 (Image credit: Panasonic Connect)
Industry shifts, from the expansion of streaming to rapidly changing consumer viewing habits, have inspired production studios to get more creative with their content. As the industry questions its traditional practices, we're also seeing new players entering the space.
Take the example of regional sports networks. Diamond Sports Group, the largest owner of regional sports networks, recently filed for bankruptcy protection. As paid TV channels, Diamond's networks have faced challenges in recent years due to the transition away from cable and subsequent rise of streaming. In fact, across the production industry, streaming surpassed TV viewership for the first time in 2022.
If Diamond or other regional sports networks cannot produce and distribute games to fans this coming baseball season, Major League Baseball (MLB) has already committed to doing so. With sports leagues like MLB producing more of their own broadcasts, it's possible we'll see a shift in content that gives fans the behind-the-scenes look at the games and athlete experiences they seek.
Ultimately, the industry is reacting to consumer demand for more content in real-time that's new and differentiated. In addition to coming up with creative content to produce, studios will need to closely examine their workflows and determine the right tech deployments to drive creative, unique productions.
Streamline Workflows and Future-proof Investments by Moving to the Cloud
The cloud is the answer to delivering dynamic content efficiently, while giving production staff the flexibility they seek. Moving broadcast workflows to the cloud will create more opportunities to take advantage of remote distributed production. This means networks can source talent from anywhere instead of relying on key production hubs.
Studios will also gain the ability to retain employees who may want to work outside of major broadcast areas. More flexible work models will help studios recruit and retain workers amid staffing challenges like those seen in the UK, where skilled staffing shortages have led to production delays at film studios.
Cloud technologies will also reduce the travel and equipment costs associated with covering distant games and events. The broadcast footprint for the 2020 Olympic Games in Tokyo was 30% smaller than it was for the Rio Olympic Games in 2016, but thanks to cloud-based workflows, content production increased by 30%.
Although the cloud can drive cost-savings in some areas, the setup process will require studios to make sizable investments, which has limited adoption of full cloud workflows to larger broadcast networks. That's likely to change in the coming years as more cloud service providers enter the market and drive costs down.
In the meantime, studios will need to be strategic when determining which workflows to move to the cloud. Editing and graphic production have made the transition, but it will likely take some time for production switchers to follow suit.
Outfit Studios with Displays for High-Quality Graphics
We are a highly visual society. More and more news broadcast studios are deploying LED walls across their sets to give them more opportunities to share visual content and retain viewers' attention. This allows sports reporters to highlight more stats on screen when recapping a recent football game. And weather broadcasts can share more detailed, real-time storm maps. This enhanced visual content makes the broadcast much more engaging.
Increasing the number of displays in a studio means control room technicians will need to work harder to control all the visual content. Just as real-time graphics can support a broadcast, having the wrong content on-screen can severely hinder a production.
Advanced live video production platforms, like Panasonic Connect's KAIROS platform, give crews the ability to seamlessly control multiple outputs. Deploying this type of platform alongside LED walls will help ensure that these additional visual elements won't hinder the overall efficiency of the production.
Integrate Social Media into Your Control Room Workflows
Social media will play a critical role in making productions more immersive and engaging for younger audiences. Gen Z gets their news most frequently from social platforms, with 50% using social networks as a daily news source. And that content must catch their attention quickly. Research shows that while Gen Z has a short attention span of about eight seconds, short-form content that peaks their interest will encourage them to seek out long-form content on the topic. Thus, that short-form social clip could drive traffic to a longer video or article on the station's website.
Developing content for social media complicates studios' goals to distribute news as quickly as possible. Uploading a livestream of the news broadcast to your Twitter or Facebook page may be simple to do, but it's not going to draw the attention of your followers. Social content needs more high-quality graphics and engaging polls to catch viewers' attention and encourage them to keep watching.
Despite the benefits of adding these graphics, they can take time for production crews to implement, meaning clips from a morning news broadcast may not appear on social until a few hours after they air on TV. That's where the right type of live video production platform can help production crews streamline the process by seamlessly driving content to multiple outputs.
Looking Ahead
Responding to the evolving broadcast landscape will require studios to stay up to date on the tech trends impacting live production. Transitioning to the cloud, adopting new technology for better visual content and enhancing social media strategies will help studios achieve maximum viewer retention.
Get the TV Tech Newsletter
The professional video industry's #1 source for news, trends and product and tech information. Sign up below.
Michael Bergeron is Senior Category Manager – Advanced Technology, Video Production at Panasonic Connect, having served many roles at Panasonic Connect including four years as camera product engineer and four years as chief technologist for workflow. Michael has been involved with the production equipment business since joining Abel Cine in 1991, from technician to engineering director. He has been developing and supporting production gear from 16mm film to the expressP2, and has authored white papers and delivered technical presentations to SMPTE, The HPA, The Digital Cinema Society, SVG, and the National Association of Broadcasters including the camera chapter for the NAB engineering manual. Bergeron holds a B.S. in physics, and an M.S. in EE.