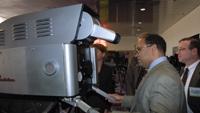 The video camera has come a long way in the past two years. It is now becoming acceptable to shoot video in venues that would have never accepted video images.

FCC Chairman Michael Powell at the vintage camera exhibit at NAB2002.

For example, the quality improvements added by HDTV have provided the technical ability to shoot and record images in progressive, specifically 24-frame progressive and 16:9 image format.
At NAB this year, many cameras were introduced with 24-frame progressive capabilities in HD, as well as SD. Many DV resolution cameras were shown in 24 or 25-frame modes to emulate film's 24 frames.
Most new SD cameras were offered in switchable image format, 4:3/16:9. In the broadcast and production community, 16:9 images are certainly more acceptable, and it is easy to see that manufacturers have responded by the products they were showing.
Cameras at NAB break down into three basic categories, HDTV, SD and DV. Many manufacturers displayed new or improved models of products in all three categories. Camera technology has reached the point where many cameras can make spectacular pictures. The difference is in how the operator can control the camera to achieve the results they want.
Metadata also made some showings this year, with some cameras able to record data items such as GPS location of the camera, lens position, and scene and take numbers. Certainly metadata will be showing up in more products as the tools become more available to program producers. The idea of pertinent data recorded alongside or with the audio and video content is growing within the industry.
Although not necessarily new technology, an interesting vintage camera display was provided by Chuck Pharis. It featured numerous historic cameras you can view at www.pharis-video.com. Pharis has a sizeable collection of old cameras and equipment, and those who visited the display were treated to some wonderful television memorabilia.
Sony introduced the MSW-900 IMX camcorder. Recording in the IMX format, the camcorder completes an end-to-end MPEG 50 system, from acquisition to production and distribution. The camcorder features MPEG I-frame compression and recording at 50 Mbits/s. Sony's latest sensor, the Power HAD EX, provides a high signal-to-noise ratio of 65 dB and -140 dB smear. A Memory Stick port allows users to store and retrieve settings via the removable memory module.
Sony also showed optional video cache boards for several camera models. The module allows seven seconds of video to be constantly recording to RAM. When the onboard recorder is activated, the images in RAM are recorded to tape, while the RAM continues to record the live images of the camera. This allows for fewer missed shots when the recorder is not recording. This feature was shown for several camera models in both standard- and high-definition camcorders.
Also introduced were the HDW-730 camcorder and HDC-930 HD camera systems. Both cameras use a 2/3-inch IT CCD with 1920×1080 pixels, featuring high sensitivity and low smear of -125 dB. Other features include selectable gamma curves, knee saturation and adaptive highlight control. A Memory Stick port allows users to store camera setups on removable media for future recall or transfer to other cameras. The HDC-930 studio camera features an optical fiber link from the CCU to the camera, providing a 1.5 Gbits/s HD-SDI signal.
The HDW-730 and MSW-900 IMX camcorders can integrate with Sony's wireless microphone products, with the receiver fitting into a slot in the camera. This feature was offered on several other Sony cameras.
Sony introduced metadata recording capabilities in several cameras, giving them the ability to record metadata and have the data continue through the production to the finished master. Metadata such as camera position (through GPS), camera data, lens data and good shot markers can be recorded. The system uses an adapter that attaches to the camera with a removable hard disk drive. JPEG proxy images can be stored on the drive and then transmitted back to the station for post production through wireless Ethernet links. Use of the low-resolution proxies will allow production to begin before the crew arrives with the actual recorded tapes. This feature is available in several formats via common camera interfaces in certain models in MPEG IMX, Betacam SX and Digital Betacam camcorders. New in camera adapters and CCUs are the CA-D50 camera adapter for the DXC-D30/D35 camera series, and the CCU-D50 CCU for the DSR-370 and 570 models. When both units are used, uncompressed SDI signals are transmitted over 75m 26-pin multicore camera cable from the camera adapter to the CCU. Longer distances of 200 m are possible by using multicore cable and an additional coax cable.
Panasonic unveiled numerous cameras with variable frame rates this year, specifically 24-frame progressive. Building upon the success of its first HD camera with 24p, the AJ-HDC27, they now offer 24p in DV, DVCPRO25, DVCPRO50 and improvements in the HD products.
Panasonic also offers the AG-DVX100, the first DV camera to offer true 24-frame progressive images. New 1/3-inch 410,000 pixels in the progressive scan CCDs allow 60-field interlace and 24-frame progressive. Weighing only 4.4 pounds, the camera includes two channels of audio with XLR inputs and phantom power available. IEEE 1394 link is standard, allowing images to be up- and downloaded to PC-based NLE systems. The lens includes manual focus and iris controls, and zoom ratios from f3.25 to 325mm. A new line of cameras featuring switchable DVCPRO 50/25 recording was introduced with the AJ-SDX900 series of cameras. The AJ-SDX900 supports 4:3/16:9 with 2/3-inch 520,000-pixel CCD imagers. It offers 24p images with sensitivity of F13/2000 lux, 10-bit A/D and signal-to-noise specifications of 63 dB. The AJ-SDC915 is a 2/3-inch IT 3-CCD camcorder, which allows users to switch between and classic 25 Mbits/s 4:1:1 DVCPRO and EFP quality 50 Mbits/s 4:2:2 DVCPRO50 modes in either the 16:9 widescreen or 4:3 aspect ratio. Both offer an optional digital Triax system, with control of both the camera and onboard VTR.
Panasonic soon will be delivering some upgrades to its AJ-HDC27 Varicam HD camera, including using cine-style gamma curves to more closely approximate the image characteristics and dynamic range of film. Also, increased variable rates now range from 4 fps to 60 fps in one-frame increments.
The new range of AK-HC900 high-definition cameras offer variable frame rate capture of 6, 12, 18, 24, 30 and 40 fps. The AK-HC931 supports variable frame rates. 480i is standard with an upgrade path to 1080i or 720p. It features 12-bit A/D with 38-bit internal processing. Sensitivity is rated at F10/2000 lux, with a low smear of -130 dB. The AK-HC900 is a compact camera with similar features of the HC900 line. Its three 2/3-inch CCDs are 1280×720 with 38-bit processing. It weighs 3.9 pounds with a 4.4×5.3×7 inch footprint. The AK-HC930 offers dual format standard with 1080i and 480i.
Thomson multimedia Broadcast Solutions showed cameras from the Philips and Thomson lines, now under the new ownership name. The latest offering is the Viper FilmStream camera with companion disk recorder, which captures information without traditional video processing. It transfers its output via dual HD-SDI links at 2.97 Gbits/s. The data then plays back through Specter Virtual DataCine and is treated in much the same way as a 2k film scan using 10-bit log. The Specter then plays back the data at any SD or DTV format and frame rate, including 2k data for recording to film. Viper also supports traditional HD rates in RGB or YUV mode via a single HD-SDI link at 1.485 Gbits/s, at which point the camera uses traditional video processing.
The LDK 5000 and LDK 6000 feature 12-bit analog-to-digital conversion, 22-bit high-definition signal processing, a patented "crawler," which adds motion to the edges of objects that are in focus, and a unique ability to zoom up on an area of the viewfinder to enhance focusing on small details. The LDK 5000 is a standard-definition camera with an upgrade path to the LDK 6000 Mk II high-definition camera. The standard LDK 6000 Mk II offers 1080i and 720p at 59.94 and 50 fps. The LDK 6000 Mk II Worldcam version is an upgrade to the LDK 6000 Mk II that provides 24p formats in 1080i and 720p.
Thomson also displayed the LDK 20 studio camera and companion LDK 200 portable cameras along with the LDK 100 series of cameras. The LDK 100 offers numerous configurations, including DPM and IT sensor versions in EFP configurations or camcorders with either DVCPRO or DVCPRO50 recorders.
From the original Thomson line the 1707, 1557 and 1657 models were also shown.
Hitachi showed the second generation of its SK-3100P and SK-3300P cameras. The SK-3100P (2.2 million pixel IT) and SK-3300P (2.2 million pixel FIT) both feature 12-bit A/D and simultaneous 1080i/480i outputs; 1080i/720p/480i is optional. The DK-H3 is Hitachi's first POV and graphics HDTV camera. It uses standard-sized lenses, but the camera size is extremely small, measuring 3.86×4.13×6.7 inches.
Hitachi's SK-555 4:3/16:9 switchable camera has a newly developed 640,000 IT CCD with 12-bit A/D conversion. It offers 63 dB of signal-to-noise and a wide dynamic range. The Z-3000W features a full F-stop of greater sensitivity (F11/2000 lux) than previous cameras, and has 4:3/16:9 with 2/3-inch CCDs.
The Eagle pan/tilt remote system incorporates control of pan, tilt, zoom, focus and camera menus for the Hitachi DK-H3, HV-D15, HV-D30, HV-D5W, HC-300 and Z-3000W cameras. The Eagle also has the ability to be controlled via the Internet.
The Canon XL-1S offers numerous improvements over the popular XL-1. It has new CCDs that offer 4 dB of improved sensitivity, and has +18 dB and +30 dB of gain available. NTSC inputs and outputs lacking from the previous model have been added. True anamorpic 16:9 images and the progressive 30 fps mode are attractive features for the XL-1 fans. The XL-1S comes standard with a 16x lens that features image stabilization. Options including interchangeable lenses designed for the camera and adapters to use 35mm still photo and motion picture lenses are available. All options are interchangeable for the XL-1 and XL-1S.
JVC's newest DV camcorder, the GY-DV300, is based on the image sensors from the DV500 and DV550 cameras in a smaller footprint. It offers the unique ability to be turned into a streamcorder by adding the KA-DV300 network adapter package. It streams video in real time via MPEG-4 and Windows Media Player. A network package enables four cameras equipped with KA-DV300 and LAN or CF cards to be controlled via a PC with a standard Web browser. This allows CCU-like control of each camera and deck. The camera offers a 14:1 lens with optical image stabilization, an available wide-angle adapter and two XLR microphone inputs.
Through a marketing agreement with 3DV Systems, JVC is offering ZCam, a depth-sensing camera. It offers the ability to record Z-depth information of a scene, allowing real-time compositing of multiple layers without the traditional chroma key screen. It provides an alpha signal of the objects in a scene the camera captures, with objects closer to the lens appearing whiter than objects further from the lens. This allows a subject in the middle of a scene in the Z-axis to be composited both in front of and behind objects. 3DV Systems has made numerous enhancements to the product since last year, improving ease of use and quality.
New to the Ikegami HDTV line is the HDK-79E(IT), an IT CCD version of the HDK-79E camera. It offers 2.2-million pixel 2/3-inch IT CCDs with 12-bit A/D and 38-bit internal processing. The HDK-79E(IT) provides 1080i/480i outputs as standard, and 720p/480p progressive output is available as an option. A separate optical block version of the 79 series is offered in the HDK-79NA, providing a platform for applications such as microscopic and POV installations. The HDK-79E MPEG includes a built-in MPEG encoder.
The HDK-720P is a 2/3-inch one-megapixel FIT CCD-equipped camera with native 720p/60 mode. It provides 720p output without the need to do any conversion. It provides 480i and 480p outputs through a CCU that incorporates upconversion or downconversion as needed. It is available in a studio and handheld configuration.
The HDL-20 camera is a two-chip 1080i camera with 2.2 million pixel IT CCDs, offering 1000 lines of TV resolution. The camera head has a small footprint, 1.575×2.086×2.807 inches, for use in applications such as POV, remote camera installations and helicopter mounts. HD-SDI outputs are provided from the camera control unit.
The HL-60W is a three-chip CCD with newly developed AIT CCDs. It offers 12-bit A/D conversion, 750 lines of resolution, high sensitivity of F11/2000 lux and a low smear level of -135 dB. It also offers hyper gain of +48 dB, allowing a minimum illumination of .12 lux. The sensitivity can be further increased with an option to provide longer exposures than 1/60 of a second, which is designed for special application in near dark illumination. It has a standard memory card for setups, using SD or SmartMedia cards manufactured by Toshiba.
In the Editcam2 line, Ikegami introduced the DNR-20 hard disk recorder. It offers the user the ability to replace the traditional portable VTR with a hard disk recorder. It offers several recording qualities, including Avid AVR-75, JFIF (3:1/10:1) or DV at 25 or 50 Mbits. IMX compression is expected to be released soon. Recording time at DV 25 Mbits resolution is estimated at 70 minutes. It utilizes Fieldpak 2 removable disk packs.
The HL-DV7W DVCam camcorder offers 2/3-inch IT CCDs, providing 520,000 pixels in NTSC. It offers images in 4:3/16:9 switchable screen formats. The DV5 provides 4:3 images with 420,000-pixel NTSC. Both cameras offer i.LINK (DV6P terminal) output for use with desktop editing systems. Twenty-six-pin VTR outputs, multicore CCU and Triax configurations are also available.
Canon lenses included long lenses with the company's Shift-IS system, providing imaging stabilization to reduce wind and other vibrations. Shift-IS is used on the Digi Super XJ75×9.3B and XJ86. It is also available in HD portable lenses HJ40×10B and HJ40×14B.
Canon also displayed the HD-EC 2002 lens, which featured improvements in reduced breathing, the amount of image size change that occurs when the lens is racked in and out of focus.
Canon introduced the new J17a×7.7B with the widest-angle ENG lens available in their line (7.7mm wide angle with 17x zoom). In their professional line, Canon showed the 19x and 12x lenses with improved zoom motors that feature 30 percent speed improvements.
Fujinon showcased a set of HD Cine Prime and zoom lenses, including fixed focal length lenses HAF5B-10, HAF8B-10, HAF12B-10, HAF16B-10, HAF20B-10, HAF34B-10, HAF40B-10 and HAF54B-10. The HD zoom lenses included the HA10×5B-10, HA17×7.8B-10 and HA20×7.8B-10.
In the long lens line for sports and entertainment applications, Fujinon displayed its OS-Tech anti-vibration device. The adapter is designed for use as an option for current and past lenses, attaching between the camera head and the lens. The HD 87x lenses, XA87×9.3ESM and XA87×13.2ESM, feature long focal lengths of up to 2300mm.
Fujinon also introduced the new A13×6.3E and A13×6.3 lenses that feature wide focal lengths and high telephoto ratios, 6.3mm and 82mm, with 164 with 2x extender. These two lenses are designed for 2/3-inch CCD cameras, with the S13×4.5E and S13×4.5 lenses for ½-inch cameras.
The Angenieux 26×7.8 made its appearance at NAB. It offers long focal ranges for ENG lenses, with telephoto lengths of F203mm, F406mm with 2x extender, and a wide angle of F7.8mm (59°). It has a maximum aperture of f1.8.
New to NAB this year was the Optimo HD lens 12 × 9.7. Other HD offerings included the Angenieux and Carl Zeiss HD adapter, which allows 35mm cine lenses to be used on 2/3-inch HD cameras.
Several lenses were shown with the company's AIF function. This allows a lens zoom setting to be preset before zooming in quickly to adjust the focus and returning back to the memorized setting.
Producers and engineers now have more depth in camera and lens products. Most camera manufacturers have both HD and SD resolution cameras available. Thomson's new Viper system certainly opened eyes as the first camera to be resolution independent. This has become the standard in computer images, and we should see more applications for this in camera and recorder technologies. DV cameras have opened up high quality capture for a host of new video users and have increased the opportunities for traditional video uses.
How the camera is adaptable to your needs is probably the most important feature to evaluate. Software control is available in almost all cameras now, not just the high-end systems of yesterday. It is now important to evaluate the control systems and the features they offer your photographers.
Dan Stark is president of Stark Consulting.
Do you have a comment about this article? To tell us your thoughts, click here.
The latest product and technology information
Future US's leading brands bring the most important, up-to-date information right to your inbox