Broadcasters have what mobile TV viewers want, says ATSC's Anne Schelle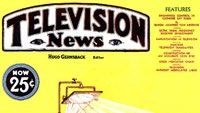 don't change, though. (Note the feature story titled, "Who Will Pay for Television?") Photo courtesy Tom Genova, owner of the online TV history museum, www.tvhistory.tv.
Click to enlarge">
Mobile TV in the United States is synonymous with cell phone networks, but that doesn't mean that's the best way. The ATSC's new broadcast mobile DTV standard might be just the thing to take U.S. mobile TV from curiosity to commodity.
Compare today's mobile TV landscape to television's Mesozoic age.
In 1927, American Telephone & Telegraph and Bell Laboratories presented what "The New York Times" called "the first practical demonstration of television," in which live picture and sound were transmitted from Washington, D.C., to New York City over telephone lines. The next year, the "Times" heralded the dawn of the TV age, writing, "Radio Pictures for the Home is Next Step in Broadcasting. Television — that is, seeing motion pictures on the radio — is approaching."
The "television" under discussion was electromechanical television.
The point here is that the technology that proves a concept isn't necessarily the one that's right for the mass market. Although electromechanical television transmitted the first moving pictures, it turned out to be a tech-evolution dead end. Just because cell phone carriers delivered the first mobile TV in the United States doesn't mean that it's the right approach.
The ATSC's new mobile DTV standard could just be the contemporary equivalent of the cathode ray tube.
This month, the ATSC gave broadcasters the go-ahead to start implementing the broadcast mobile TV specification the standards group has been working on for more than a year, now elevated to a Candidate Standard.
For local broadcasters, this could change the game, according to Open Mobile Video Coalition Executive Director Anne Schelle, offering opportunities for new revenue from existing programming, new programming and advertising models — and entirely new kinds of services.
Furthermore, ATSC's Mobile DTV leverages broadcasters' existing terrestrial infrastructure and broadcast spectrum, letting them broadcast the mobile stream within the station's digital channel without interfering with existing multicast and SD or HD programming.
"Broadcasters definitely have the edge in cost and effort over cell phone carriers — they're using the existing infrastructure that's already in the ground," Schelle said. "It's fairly inexpensive for a broadcaster to put up a mobile transmitter on an existing tower — as little as $50,000 and as little [installation time] as four hours. In the mobile industry, it takes as much as a year to put up a single cell site."
Of course, it doesn't matter if it's cheap to build if no one wants to buy. But local broadcasters have much of what mobile viewers want, Schelle said — local information like traffic and weather and familiar programming.
"If you look at broadcasters, they have the most highly watched shows," she said. "If you look at [mobile] carriers, what they're offering is very limited. If you look at the two countries that have really deployed broadcast [free-to-air] mobile TV, Japan and [South] Korea, both have 50 percent penetration [for mobile TV viewing]."
"When the iPhone was introduced there, consumers didn't flock to it because it didn't have mobile TV," she said.
For broadcasters, the standard's flexible architecture opens up new revenue opportunities and supplies the "plumbing" for other value-added services. Spectrum freed by the digital changeover can be used for services like location-based services, advertising and sell-through transactions, "push" on-demand programming, digital video recording, pay-per-view, program guides and extensible storage.
"And these services are ones where they will have interactivity and [direct] access to customers for first time," Schelle said, "because the devices have potential for a return channel. So it's not broadcast only."
The eventual experience could turn out to be as different from what we call TV as "Candid Camera" was from the projections of the electromechanical television age. "At NAB, there was a demo with mobile DTV on a tablet computer showing 'Dancing with the Stars,' and you could vote by touching your favorite contest," Schelle said. "Think 'American Idol' and being able to vote on your handset."
Put it all together and you get (dare we say it?) — TV 2.0. "It enables broadcasters to become new media companies," Schelle said. "This will become a lean-forward service for broadcasters where viewers are engaged."
As heady as that sounds, the reality of the rollout brings us back to earth. Complete working systems will be on display and transmission equipment available for broadcasters to buy at CES and NAB in 2009. But viewers will have to wait until 2010 for U.S. broadcast mobile TV to take off, according to Schelle.
"It's somewhat a chicken and egg issue right now," she said. Before committing, device manufacturers want to make sure there are services, and operators want to be sure there are devices. But the new standard should help all players move forward with confidence that they won't be heading down a blind alley.
Schelle compares the mobile TV phone to the camera phone. "It took five years to go from a few [handsets] to pure ubiquity — now every phone has it." Likewise, it will take some time for mobile TV tuners to become equally omnipresent. "In 2010, you'll certainly see new handsets," Schelle said. "A few years from now they're going to have everything, and they'll all be optimized for mobile television services."
This seems like pretty grim news for carriers. But don't be so hasty in writing them out of the equation, Schelle said. As mobile TV becomes more familiar, people may be more willing to pay for premium content, or carriers may just find a new and interesting use for that bandwidth. Remember that 1927 TV broadcast over telephone lines? We call that broadband multimedia today.
For more information, visit http://www.omvc.org.
Have comments or questions about this article? Leave a comment below or visit our Forum to start a discussion.
The latest product and technology information
Future US's leading brands bring the most important, up-to-date information right to your inbox