Andrew provides insight on the state of DTV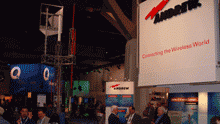 Myron Fanton, P.E., sr. antenna engineer, Andrew Broadcast Products, says that this year's NAB made it eminently clear that the broadcast industry is finally comfortable with DTV. He notes that consultants, manufacturers and station chief engineers are now using the same language that the staff scientists have been using.

Key Andrew staff explain where they see the DTV rollout is at present and a few pitfalls to watch out for.

Craig Skarpiak, Andrew engineering manager, observes that even though many broadcasters are rushing to satisfy the FCC DTV on the air date with lower power and considering the FCC's upcoming Lower 700MHz (Ch52 - 59) auction of licenses starting at the end of this month, broadcasters must not lose sight of the FCC's and Congress's ultimate goal, to reclaim and sell their out-of-core channel licenses.
Craig says that in the upcoming year, broadcasters with out-of-core assignments need to closely watch their RF equipment purchasing decisions to assure they have an acceptable migration path to their ultimate in-core frequencies. "It is vital for Broadcaster's to consider their final frequency assignment, whether to go back to your original analog channel or to another for improved performance, when choosing a supplier and equipment for DTV. Can this equipment be reused at your in-core assignment?" He also said that you must consider what equipment exchange possibility does your supplier offer to maximize your capital investment?
Laura Sterling, Andrew product line manager, recalls that many people asked her why she was doing a paper on "Interim vs. High Power Solutions" at this year's NAB. Sterling said that some even questioned the timing. They were confused because they felt as though broadcasters had already purchased their DTV equipment or at least made the decision that they were going to go with a low power solution. She found out at NAB that this statement is not true. There are hundreds of broadcasters that still have not made a decision. Andrew wants broadcasters to know how important it is to research a high- power solution before possibly "settling" with a low-power alternative just to meet the FCC requirements.
Andrew introduced a number of products at this year's NAB. Andrew has introduced a full line of broadcast technical services, including:
System optimization testing;
Site survey and inspection;
Field technical advising;
System optimization tuner;
Transmission line system design and layout.
Other products introduced include 1-1/4", 50 ohm air Dielectric cable ideal for panel antenna and jumper feeds; a 1-5/8" directional coupler; 9.4M Ku and Ka-band earth station antenna; 8.1M Ku-band earth station antenna; and the ACS3000 antenna controller, which has storage capacity for up to 1000 satellite positions.
For more information www.andrew.com.
The latest product and technology information
Future US's leading brands bring the most important, up-to-date information right to your inbox