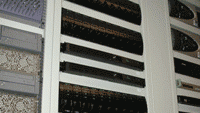 In today's competitive environment, broadcasters are under pressure to increase production quality while reducing costs. One way to help achieve these goals is to deploy affordable digital video-editing workstations.

Ciprico's DiMeda is being used by HBO for "HBO On Demand" at its broadcast center in Hauppauge, NY.

When deploying one workstation, a broadcaster's main concern is maximizing the workstation's capabilities. But, when deploying a number of such workstations, the broadcaster's concern shifts to facilitating collaborations among them — sharing video files.
The video-processing workflow includes many steps that access and transform video files, and each step may occur in multiple sequences and iterations. Given the amount of content access and the number of workstations that can be involved, the file-sharing method that a facility implements can have a major impact on its productivity.
Distributed vs. shared storage
A distributed-storage architecture stores video files on local devices directly attached to each of the workstations. Operators transfer files between workstations through Ethernet-based LANs or by using removable media. While distributed storage can be successful for small implementations, problems grow exponentially with the number of users and workstations. For this reason, many organizations are turning to shared-storage architectures. The two leading shared-storage architectures are storage-area networks (SAN) and network-attached storage (NAS).
SAN solutions
Given the high data-throughput requirements of centralized video-file sharing, it's not surprising that many facilities have rapidly adopted SAN solutions. Fibre Channel's highly efficient data transport can provide near-wire-speed performance with minimal CPU use. SANs also provide facility owners the flexibility to scale storage capacity and, more importantly, to scale performance and number of users.
A basic SAN for video editing among multiple workstations centers around a Fibre Channel fabric, which provides the physical data-transport layer connecting redundant storage. A thin software layer residing on each workstation manages centralized file sharing. The software redirects access requests through a specialized server that acts as the file-system lock manager, ensuring that users maintain the proper concurrent access rights.
Storage virtualization can distribute data across multiple devices, increasing system performance without increasing the management burden. Large-scale production and broadcast systems typically include additional workstations to manage content archive, asset management and other additional functions.
NAS solutions
NAS file-sharing solutions, which provide centralized file-sharing services similar to SAN, offer a lower total cost of ownership (TCO) compared to a SAN solution because they have the following characteristics:
Ease of integration — minimal client impact, no client-side file software, no Fibre Channel, fast install, better application compatibility
Lower maintenance costs — product monitor alerts, call home function, on-the-fly expansion, SNMP, integrated NDMP backup
Lower acquisition cost — Gigabit Ethernet component costs vs. equivalent Fibre components
Dispelling NAS myths
Myth #1: Poor transport efficiency

Figure 1. This graph shows the results of aggregate NAS throughput tests achieved without dropped frames.

While it's true that Gigabit Ethernet requires more processing power than Fibre Channel to move an equivalent amount of data, this does not preclude Gigabit Ethernet from being an appropriate transport for video applications. High-performance NAS devices can provide enough bandwidth through a single connection to support five to 10 workstations simultaneously processing DV25 and higher-data-rate video formats. For example, Ciprico has tested its DiMeda 2400 Digital Media Appliance across multiple clients using Matrox hardware with Adobe Premier and Windows Media Player software to simulate worst-case throughput loading. Figure 1 shows the results of these tests achieved without dropped frames.

Figure 2. This graph shows the net client-side CPU use during DV25 and 50Mb/s video ingest and dual-channel playback for SAN and NAS configurations.

Client-side CPU use is also an important consideration. The application software must not become resource-starved as transport rates increase. Figure 2 shows the net client-side CPU use during DV25 and 50Mb/s video ingest and dual-channel playback for SAN and NAS configurations. By using a hardware-accelerated Gigabit Ethernet network-access card in the client, CPU use levels for SAN and NAS configurations are virtually equivalent.
Myth #2: Unreliable quality of service
Much debate has ensued over the non-deterministic nature of Ethernet LAN flow control based upon carrier sense/collision detection vs. Fibre Channel buffer credit system. The truth is that a properly designed Gigabit Ethernet network can provide the performance required for multiple video file accesses for video formats up to and including DV50.
The critical point is determining the right balance between quality of service and TCO. The range of performance may be the determining factor in SAN vs. NAS. For upper-end applications, SAN offers users storage and performance scalability. For the majority of applications found in broadcast nonlinear editing, NAS is more appropriate and easier to implement.
Myth #3: Unsecured
The mere mention of the words "Internet Protocol" can conjure images of hackers siphoning valuable content assets. Fibre Channel-based SANs address this threat through the inherent physical security of a separate network. Limiting access to the SAN network controls outside threats, but provides very little security within the network. NAS-based storage relies on existing, well-defined network-security standards. In fact, most SAN-attached storage is accessible through the attached servers and therefore is protected by the same mechanisms as NAS.
The best of both worlds
Storage systems have traditionally provided best-effort bulk storage of content. Applications like video, which require a specific quality of service, have generally been supported by expensive solutions that impose a significant burden on IT budget and staff. A modern storage system must meet application requirements such as I/O and bandwidth, yet must also provide services in an economic manner with minimal administrative involvement.
An appliance that provides the performance of SANs, the ease-of-use of NAS, and a set of services designed to integrate digital production and broadcast functions can improve productivity, lower the cost of production, and generate new lines of revenue.
Mohan G. Mysore is market manager for entertainment and media, Gerry Johnsen is senior product manager, and John Hearn is senior product architect for Ciprico.
Get the TV Tech Newsletter
The professional video industry's #1 source for news, trends and product and tech information. Sign up below.