Upgrading Connecticut Public Broadcasting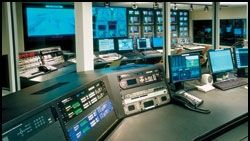 In the foreground sits satellite, RF and quality control. Operators use a Videotek VTM-420, Dolby processing, Wohler monitoring and Sony router control to control downlinks and uplinks and check for quality. Photos by Andy Washnik

From humble beginnings in 1962, Connecticut Public Television (CPTV) grew to a statewide public television broadcaster, becoming Connecticut Public Broadcasting Inc. (CPBI) when it joined forces with Connecticut Public Radio WNPR in the 1970s. Since its inception, CPBI owned and operated out of a building located on the campus of Trinity College in Hartford. In 2002, the college needed space and made the broadcasting company a generous offer to vacate.
At around the same time, the broadcaster had begun evaluating and planning major upgrades to the facility. With this new impetus and a number of grants, sizable donations and other funds, it was ready to move.
The public broadcaster found a vacant six-story building located across town that could be rehabilitated to suit the new broadcast facility. After a thorough RFP and evaluation process, CPBI entered into a contract with Sony Systems Integration Center to design and build a new technical infrastructure for the television and radio divisions of CPBI, bringing both organizations into the digital realm, and in the case of CPTV, fully into the world of HDTV. During the design phase of the project, Sony Systems Integration Center was acquired by A.F. Associates (now Ascent Media Systems & Technology Services). As a result, A.F. Associates completed the design phase with the original design team and implemented the project from its East Coast base in nearby northern New Jersey.
System description
CPTV runs as a multicast operation, originating its analog service, up to four SD channels, one HD channel and CPTV2 from broadcast headquarters in Hartford's historic Asylum Hill neighborhood. The signals are fed to four transmitter sites located around Connecticut. WNPR has a single air stream fed to four separate transmitter sites to provide similar coverage. Connectivity between sites is a combination of fiber, microwave and (in the case of radio) telephone links.
On the television side of the system, a new HD/SD SDI routing system was implemented, and new systems were designed and built for production control, master control, ingest, camera shading, studios, feed record and transmission. Editing and post-production were already based on Avid nonlinear editors, so that equipment was migrated, and a new HD Avid system was added.
In the radio division, almost an entire new system was designed and built. This included a digital audio delivery system from D.A.V.I.D., a Sierra Audio Systems digital audio router and mixing system, four production studios and control rooms, and a newsroom. All systems were interconnected using the CAT-5 wiring technology of Radio Systems.

South Dakota Public All video productions for CPTV are produced in this room with a Sony MVS-8000 switcher and video monitoring, Pixel Power CG display and RTS intercom panels.

On the first floor of the new building, four offline edit rooms house legacy Avid Xpress systems. In a newly constructed first floor annex, two production studios and production control rooms are based on a Sony MVS-8000 HD/SD switcher system and three Sony HDC-930 HD studio cameras. An additional three Sony HDW-750 field camcorders are available to augment the studio cameras or for separate productions in the second studio. A CRT-based monitor wall with Sony displays cost-effectively shows SD and HD content during productions. An adjacent audio control room, based on a Sony DMX-R1000 digital audio mixer, is capable of producing stereo and 5.1 surround mixes.
The online Avid rooms, all media composers, the graphics room, master control, camera shading, transmission control, ingest and the central equipment rooms are on the second floor. The transmission rack room has 40 racks containing the transmission and satellite modulation equipment and is a separate room from the network operations center equipment space. The main equipment center supports both the CPTV baseband processing as well as the technical core for WNPR's radio operations.
Master control and ingest operations are based on OmniBus automation with an Omneon Spectrum series video server and a MassTech MassStore archive management system controlling a StorageTek L700 tape library. The MassTech system was selected for its library management and its low-res proxy features.

Master control houses a Miranda Presmaster and OmniBus automation workstations.

A Miranda Pressmaster master control switcher using SD and HD Imagestores provides on-air signal processing and switching. A pair of Miranda K2 multi-window display processors and a pair of Clarity Lion DLP-based rear-projection displays support HD and SD outbound signal monitoring. Adjacent to the Clarity displays are five racks of conventional CRT monitors for inbound feed and off-air signal monitoring.
Three ingest workstations, designed to accommodate both SD and HD material, are located in one area of the network operations center. Each workstation has an OmniBus computer, video monitoring and Videotek VTM series test and measurement QC equipment. Behind the operators is a row of racks containing VTRs of various formats to handle all of CPTV's ingest and dubbing needs. The SD standard tape format is Digital Betacam and the HD standard is HDCAM, running at 1080i.
CPTV's main routing system is a Sony HDSX-5800 SD/HD SDI router with embedded AES, and a separate RS-422 router provides a separate layer. Sony's router control panels interface with the S-bus interface. These are connected to and controlled by OmniBus automation. To access the multitude of servers, workstations and various computers, a 64×16 KVM router from Raritan was installed, enabling operators to control the system from various locations throughout the facility.
Inbound feeds are connected from various satellite dishes mounted on the roof to receivers from Standard Communications, Motorola (for SD) and Digital Vision Bitlink (for HD). These are connected to Miranda frame sync cards and audio embedders to the main router. Outbound ATSC processing is handled by a legacy TANDBERG Television encoder solution. For separate PBS services and as a revenue source, CPTV also operates a satellite uplink system with an 8m dish mounted on the roof.

Program content is recorded in one of three radio production control rooms and prepared with D.A.V.I.D. automation for scheduled playout. The room can also be used for live-to-air program content origination.

The third floor of the building is for the WNPR radio staff. A separate newsroom with D.A.V.I.D. workstations allows production staff members to write their stories, record clips and store them on the digital audio server. Three production control rooms and one master control room are linked to four separate studios, with tie lines from the largest studio to the CPTV video systems. This allow it to be used as an auxiliary production studio.
Transition planning
With any facility move, transition planning is a vital part of project success. Building a new technical infrastructure simplified CPBI's move, but still required forethought. CPTV uses a fiber switch in Hartford as a distribution point to connect with local cable head ends and several of their transmitter sites. By building the new system and then forward feeding it from the old building, transmission continuity was assured. With little of the old facility being re-purposed, this allowed the signal to be switched over to the new system with no signal downtime. CPTV actually switched to the new system in the middle of a program segment — seamlessly.
WNPR's radio operation transition was accomplished in much the same way. The new D.A.V.I.D. system and Sierra Audio Systems audio router/mixer almost completely replaced the old system, and studios were backfilled with legacy equipment when show schedule shifts occurred.
CPTV also had to consider the migration of its video assets to the new playout system. With several thousand hours of content on outdated archive systems, various scenarios were considered. Ultimately, with all the data migration methods involving data transcoding, heavy LAN bandwidth requirements between buildings and archive library database conversion, CPTV elected to re-encode the library as needed to fill the programming grid and start with a clean slate with new automation and archive management systems.
All told, the project took about a year from conceptual design to final systems implementation and testing. CPTV and WNPR now have a fully digital infrastructure that should meet their needs for years to come.
Design team
Connecticut Public Broadcasting
Meg Sakellarides, CFO
Haig Papasian, VP of engineering and operations
Joe Zareski, director of engineering
Kim Grehn, general manager for WNPR
Gene Amatruda, director of operations for WNPR
A.F. Associates (Ascent Media Systems & Technology Services)
Tom Michales, project manager
Bert Swackhamer, project engineer
Chris Crummett and Jerry Stalder, design engineers
Chris Finn, project leader and installation supervisor
Equipment list
Avid Xpress legacy systems
Cisco broadcast LAN
Clarity Lion DLP rear projection displays
D.A.V.I.D. radio automation
Dell broadcast LAN
Eastboard consoles
Imagestores
MassTech MassStore archive interface
Miranda
K2 multi-window display processors
Presmaster master control switcher
OmniBus Spectrum series video server
Pixel Power CG display
Radio Systems CAT-5 wiring
Raritan 64×16 KVM router
RTS/Telex intercom
Sierra Audio Systems radio routing and mixing
Sony
DMX-R1000 digital audio mixer
HDC-930 HD studio cameras
HDSX-5800 SD/HD SDI router
HDW-750 field camcorders
MVS-8000 HD/SD switcher system
RS-422 router
StorageTek L700 data archive
TANDBERG Television legacy encoder
Videotek VTM series test and measurement QC equipment
Tom Michales is senior project manager for Ascent Media Systems & Technology Services.
The latest product and technology information
Future US's leading brands bring the most important, up-to-date information right to your inbox