Solid-state and optical storage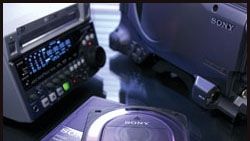 Sony XDCAM cameras simultaneously record at MPEG-4 low-res proxy along with the main DVCAM or IMX signal.

Videotape has been the mainstay of television recording since the days of Ampex. In the last few years, we have seen other data storage media becoming a viable means of recording video signals.
Magnetic and optical disks both represent alternatives to tape, and solid-state memory has recently become affordable in the gigabytes needed for video applications. Magnetic disks — the computer hard drives — are now well-established as the heart of video servers and the nonlinear editor and have become the mainstay of the production workflow. However, servers are not viewed as the most appropriate storage medium for acquisition, distribution and archiving.
Optical storage
Very recently, we have seen the emergence of optical and solid-state storage as cost-effective alternatives to videotape, especially for image capture, where they offer several advantages for fast-paced workflows. Both optical and solid-state storage have been enthusiastically adopted for consumer products. Such volume manufacture promises to lower costs for the highly specified products designed for the more demanding broadcast applications.
There is nothing new about optical storage. The music CD was launched in 1982, and magneto-optical storage has long been popular for data archiving and the exchange of large files in the pre-press industry. Both these applications have modest storage capacity, a few hundred MB. The development of the DVD has made possible optical storage for video applications. The DVD was designed as a distribution format to replace the VHS tape and 12in videodisks. For consumer applications, the maximum video data rate of 9.8Mb/s delivers good standard pictures using MPEG-2 4:2:0 encoding and standard definition. For a broadcast application, the minimum data rate should be at least 25Mb/s to allow recording of DV signals, or even higher for I-frame MPEG-2, so the DVD in its current form is ruled out.
To meet the demands for HDTV consumer disks, two high-density formats have been developed: the HD-DVD (developed by Toshiba and NEC) and Blu-ray (developed by Sony). Both use a short-wavelength blue-violet laser to get higher recording densities. While these two formats co-exist, there is much uncertainty as to whether a single standard will emerge, or whether there will be a repeat of the VHS/Betamax debacle.
XDCAM and the Professional Disc
In the meantime, Sony has pressed ahead with a blue-laser product for the broadcast market, the Professional Disc, which is used by the XDCAM product family. This shares many of the specifications of the Blu-ray, but is designed for higher data transfer rates and shorter playing times than the consumer disk. (See Table 1.) It is supplied in a dust-proof caddy, giving more protection for broadcast applications. The disk has two layers and a thin coating versus the DVD, which uses three layers.
The XDCAM family was created to give videographers long record times familiar with videotape but in a compact and low-cost archivable media that also provides nonlinear access. Contrast the solid-state memory, which is only used as a temporary store before transfer to hard disk or tape.
The Professional Disc supports both DVCAM and IMX compression formats (25Mb/s or 50Mb/s). Note that the initial version 1.0 Blu-ray specification supports recording up to 36Mb/s, insufficient to record IMX video at 50Mb/s. The enhanced specification of the Professional Disc supports a minimum of 72Mb/s with planned enhancements for HD recording. The Sony XDCAM line includes camcorders, a studio deck, a portable deck, an IEEE 1394 drive for connection to nonlinear editors and a cart machine for playout applications.

Panasonic's P2 card is available with 2GB, 4GB or 8GB of storage, with higher capacities to be released in the near future.

Solid-state storage
To speed the workflow for applications such as news gathering, the XDCAM cameras simultaneously record an MPEG-4 low-resolution proxy along with the main DVCAM or IMX signal. This can be read at high speed into an NLE to start offline editing immediately without the delay of ingesting the primary video signal.
P2
Flash memory has proved popular as removable storage for consumer devices such as digital cameras and cellular phones. There are several different standards, including Compact Flash, Secure Digital (SD), Memory Stick and SmartMedia. They offer non-volatile storage with typical capacities of 1GB today, with promises of 32GB cards by 2008. All these formats use Flash memory, a type of EEPROM Electrically-Erasable Programmable Read-Only Memory (EEPROM) that provides non-volatile storage on a silicon chip. Flash does have a finite limit to the number of erase operations. For example, the P2 card is rated at 100,000 cycles. Flash also provides the storage for the ubiquitous USB memory sticks.
Panasonic has developed a new memory card aimed at the broadcast camcorder market, the P2 (Professional Plug-in). It uses the PC card footprint and contains four SD memory cards. The P2 card can be removed from the camera and plugged directly into a laptop editor to start cutting pictures at the point of acquisition. The card is available with 2GB, 4GB or 8GB of storage, with higher capacities to be released in the near future. Table 2 on page 12 shows the maximum recording times of the P2 card for different video formats.
Panasonic has developed a complete solution for news gathering based around the P2 card, with camcorders, a studio deck and a multiple card reader for desktop-PC editors. The big advantage of solid-state over optical or tape is the very high data transfer rates possible. This means that content can be ingested by an NLE in a fraction of the time of the other storage media. The transfer is limited only by the internal processes of the laptop PC.
Digital cinematography
The P2 cameras can also encode a low-res MPEG-4 file using an optional codec card and store the file on a smaller SD card. This file can be used for local viewing on a PDA or even delivered as a news flash over a low-bandwidth circuit.
Solid-state storage is not limited just to camcorders. Early digital cinematographers found that the electronic camera had to be tethered to a flight case full of hard drives. Cinematographers are not used to working encumbered by cables. They expect a digital camera to have on-board storage, just like a film magazine.
One solution from Grass Valley is the Venom FlashPak, a solid-state data storage designed to dock to its Viper camera. In an enclosure about the size of a film magazine, it packs enough high-speed Flash memory to record 10 minutes of video, about the same as a 1000ft film reel.

Grass Valley's Venom FlashPak is a solid-state data storage designed to dock to the company's Viper camera.

It records the FilmStream output of the Viper. This is a 4:4:4 RGB signal carried on a dual-link HDSDI interconnection. A typical shoot would use three Venom packs: one on the camera, the second at a transfer station for review and transfer to long-form storage, and a third as a spare. The swapping of packs is thus similar to changing film magazines.


While it was primarily intended for high-end film-style production using the Viper in FilmStream mode, it also is able to record regular uncompressed HD-SDI signals in the HD mode. The recording duration then increases to 18 minutes.
Workflow advantages
The biggest advantages to using optical or solid-state storage can be seen in the area of news gathering. (See Figure 1.) Here, speed is of the essence. The solid-state memory cards can be ingested by a laptop NLE faster than the reporter can start cutting the story. The MPEG-4 proxy from the XDCAM disk can also be ingested at high speed, although a drive will be required to play the file into the laptop.
The MPEG-4 proxies can be used for an offline edit on site or transmitted back to the newsroom as previews. The time to ingest to the NLE is much less than tape for both the optical and solid-state formats, so these are both real bonuses when it comes to fast delivery of breaking stories.
Other advantages of optical and solid-state include inherent support for nonlinear access and compatibility with file-based workflows. Both the XDCAM and P2 support the MXF format. The formats are rugged and can stand up to the extremes of temperature and vibration often found on location that may preclude the use of conventional hard drives. There are differences in media costs and in file transfer speeds. With that said, both forms offer advantages to broadcasters looking to decrease the time between shooting and airing a story.
Table 1. Shown here are optical disk specifications. (1Note that a DVD can have two layers and two sides.) DVD1 Blu-ray Sony Professional Disc Wavelength 650nm 405nm 405nm Numeric aperture 0.6 0.85 0.85 Track pitch 0.74µm 0.32µm 0.32µm Data transfer rate 9.8Mb/s 36.5Mb/s (v1.0) 72Mb/s (one head) 144Mb/s (two heads, write) 170Mb/s (read) Data capacity 4.7GB 23GB 23GB

Table 2. Maximum recording times of Panasonic's P2 card for different video formats Recording format Approx. recording time: P2 8GB DVCPPR 32 minutes DVCPRO50 16 minutes DVCPROHD (720/24p) 20 minutes DVCPROHD (720/25p) 16 minutes DVCPROHD (1080/50i) 8 minutes

The latest product and technology information
Future US's leading brands bring the most important, up-to-date information right to your inbox
Thank you for signing up to TV Technology. You will receive a verification email shortly.
There was a problem. Please refresh the page and try again.