Software-based automation platforms enjoy economic stimulus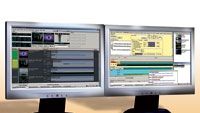 With automation systems playing an increasingly important role in the management of on-air channels and facility operations, broadcasters are looking harder at how the technology can help do more without adding costs. What's needed is a way to cost-effectively create and manage a playout system.
The latest generation of software-based platforms is a good option because they are less expensive to install initially and enable a broadcaster to produce an entire broadcast from standard IT equipment or even a single PC workstation that uses less power (less than 300W) and is easier and less costly to maintain.
Customers can install the PC workstation and software fairly inexpensively and then simply add on control modules as needed. This reliance on software also allows vendors of such systems to release new capabilities relatively quickly, in some cases three or more feature releases every year. This was virtually impossible with previous-generation hardware-centric systems.
In a traditional model, one control system sends triggers to multiple external devices, such as a video router, server, CG, DVE unit or audio embedder. All of the elements then get mixed together right before final channel output. This has sometimes led to on-air errors when one of the triggers does not activate the device it was supposed to at the proper time. With an IT-based system, there's no triggering. Everything happens within a single computer processing unit, theoretically ensuring better accuracy as events happen when they are programmed to.
The emergence of IT components in the broadcast automation environment was initially met with some skepticism, but advances in computer processing power and the maturity of commodity IT technology to handle video data has combined to make these systems attractive to stations focused on adding new channels or cost-effectively upgrading from legacy broadcast hardware.
"Over the last few years it's been difficult to convince broadcasters to give full control of their channels to a PC, but over the past six months — in part due to the economy — we have seen a big increase in interest and orders," said Mark Errington, CEO of UK-based On-Air Systems. "Whereas someone might have been looking at spending a million dollars on a traditional automation solution, they are now looking at IT systems that cost thousands of dollars and give them more flexibility."
Among a list of customers, the playKast system is now used in the United States at KOCT-DT, the ABC affiliate in Carlsbad, NM. In Europe broadcasters such as TVN, in Poland, and YLE, the state broadcast network in Finland, are both early adopters.
Errington said he's puzzled by the stigma surrounding these products. Although video servers are now considered "broadcast-quality"— and have begun to offer new capabilities beyond media playout — in essence they are nothing more than a repackaged PC with an AV card. On-Air's playKast multilevel automation software platform, complete with an AV card, is not designed to control devices such as video servers, but to replace them with a more flexible way to not only manage clips but do much more.
Many of these IT-centric software platforms, based on the Microsoft Windows XP operating system, can be used for graphics and branding applications, subtitling, as well as controlling DVE boxes and other elements, in addition to automatically playing out audio and video clips, much like a video server.
For example, the playKast system enables users to output a fully branded channel with many automated output options — like aspect ratio conversion, multiple audio tracks, promos, multiformat playout on the same timeline, and time delay — from a single PC workstation.
At the NAB Show OmniBus Systems, another advocate of the software-based automation model, will introduce a new Mobile Video module for its iTX software-based automation, master control and playout system. According to the company, the iTX platform makes traditional automation, master control and playout equipment obsolete. It does this by combining all the functions of a conventional transmission chain into a single, integrated suite of software applications running on low-cost IT servers. DIRECTV, in Los Angeles, uses the iTX system to control its multichannel playout operations.
With the Mobile Video module, it's now possible for broadcasters to send high-quality transmissions with baseband mixing, transitions and effects to portable devices. iTX Mobile allows operators to easily expand into new market opportunities, as well as see cost savings and quick return on investment.
Mike Oldham, OmniBus Systems CEO, said that despite the tough economy, broadcasters still need to develop of new sources of revenue. "Now that the era of poor-quality services made by splicing highly-compressed streams is over, we are seeing significant uptake from some of the biggest names in the industry because iTX Mobile allows any broadcaster to quickly deploy new mobile TV services distinguished by the quality and branding that will win new subscribers."
Offering a similar solution is Pro-Bel, with its Morpheus Integrated Content Engine (ICE). Based on the company's existing Morpheus automation technology, ICE is a standalone automation and master control system that does the job of several products from different manufacturers — including automation, a master control switcher, graphics engine and media server — in a single 3RU box.
The platform provides everything necessary for single channel playout or, by linking ICE units together, a multichannel environment. ICE is also used for adding cost-effective channel backup, preview or regional opt-out management to existing automation systems. ICE supports a wide range of SD and HD video file formats, removing the transcode bottleneck.
"It's taken the market a long time to move from a VTR-based model to a file-based model and now to an IT-based architecture," Errington said, "but we're now getting the kinds of performance and capabilities with advanced features that our customers have needed for many years."
The latest product and technology information
Future US's leading brands bring the most important, up-to-date information right to your inbox