5G Brings New Content Distribution Realities
The impact of 5G on content distribution starts with the higher data throughput and lower network latency that will make downloads fast and enable new entertainment experiences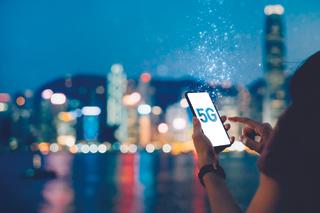 (Image credit: RF D3sign/Getty Images)
Painting 5G deployment with a broad brush is fraught with danger if the goal is getting a clear picture of where wireless content distribution is headed.
Backers of competing offerings with different business interests, unique visions of the future and competing technologies have seen to that.
For instance, T-Mobile says it has "the first, largest and only nationwide 5G network." But competitors like Verizon say many of the real 5G benefits consumers experience are only possible by using millimeter wave (mmWave) bands, such as 28 GHz where 1 Gbps or more throughput is possible—not the 600 MHz band used by T-Mobile for its 5G network.
Enter into the mix the 3rd Generation Partnership Project (3GPP) responsible for setting mobile telephony standards. It envisions 5G as a heterogeneous radio access network ecosystem that leaves the door open for other communications networks like Wi-Fi 6 and even Next Gen TV.
Thus, there probably is no single cohesive picture of how 5G will impact future content distribution but rather a picture more akin to an Anna Halm Schudel photomosaic in which each tiny representation contributes to a big picture that can't fully be understood without grasping its individual components.
VR, AR AND IMMERSION
The impact of 5G on content distribution starts with the higher data throughput and lower network latency that will make downloads fast—mere minutes to download a feature film—and enable new entertainment experiences, said Sanyogita Shamsunder, VP of 5G Ecosystems and Technology Innovation at Verizon.
For the December 2019 premiere of "Star Wars: The Rise of Skywalker," Verizon Media's Ryot Studios and Walt Disney Studios collaborated on an interactive experience that allowed after-party attendees to interact in real time with two Sith Jet troopers—actually a pair of actors in a motion capture studio miles away on the west side of Los Angeles. Without Verizon's 5G network, the actors would not have been able to chat up guests in their rendered trooper attire from within their virtual Star Wars environment, she said.
"There is an opportunity to create interactive content—not just interactive games—using 5G technology," said Shamsunder.
Examples from everyday life could include AR-enhanced shopping experiences that present the entire contents of stores on 5G phones as customers pass by a store and an immersive, virtual experience with a mother's newborn aimed at relieving postpartum depression, Shamsunder said.
SATELLITE SOLUTION
5 Key Takeaways
1. Content distribution via 5G will take a wide variety of forms, each with its own unique advantages and challenges.
2. T-Mobile covers 200 million Americans with the footprint of its 600 MHz-based 5G network.
3. 5G mmWave networks offer higher data throughput, which ultimately will make VR and AR experiences that enrich entertainment and everyday life possible.
4. Broadcasters' 5G play is based on 5G being a heterogeneous radio access network with room for Next Gen.
5. One-to-many broadcast bits will always be orders of magnitude cheaper than unicast bits, which will make Next Gen TV broadcasters attractive partners for wireless operators.
While traditional satellite backhaul has relied on GEO geostationary satellites, MEO [Medium Earth Orbit] and LEO [Low Earth Orbit] constellations will play an important role for 5G as well, he predicts.
BROADCAST CONNECTION
Operators of 5G wireless networks will be unable to ignore the role Next Gen TV broadcasters can play in distributing content, said Mark Aitken, president of ONE Media and senior vice president, Advanced Technology, for Sinclair Broadcast Group.
"At the end of the day, the biggest reason wireless operators should work with broadcasters is about broadcast's ability to provide cost-competitive delivery of long-length feature content," said Aitken. "The cost of broadcast bits is orders of magnitude less expensive than unicast bits."
With the new Next Gen broadcast radio head that integrates into 4G and 5G networks from ONE Media and Saankhya Labs and a new Next Gen TV-enabled phone for AT&T and T-Mobile networks, the possibility of broadcasters playing an important role in a 5G content distribution world has gotten much closer to reality, said Aitken.
Get the TV Tech Newsletter
The professional video industry's #1 source for news, trends and product and tech information. Sign up below.
Phil Kurz is a contributing editor to TV Tech. He has written about TV and video technology for more than 30 years and served as editor of three leading industry magazines. He earned a Bachelor of Journalism and a Master's Degree in Journalism from the University of Missouri-Columbia School of Journalism.