The future of Internet broadcasting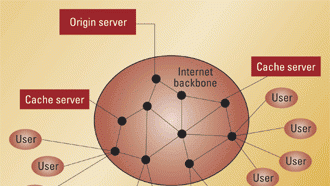 The Internet has become a valuable means for retrieving information and accomplishing tasks once limited to the "normal business hours" of commercial industries such as banks and retail stores. Consumers enjoy the benefits of pulling content for their perusal at their convenience. Broadcasting, on the other hand, is a means of pushing content from one point of service to many viewers simultaneously. So how does Internet broadcasting combine the two so that a diverse audience can pull content that they want to see, whenever and wherever they want to view it?
Two modes are available today for Internet broadcasting: live event Webcasting and video-on-demand services. This article focuses on the delivery of streaming media, not downloadable content that is saved to a user's computer. Each model is applicable to different circumstances and utilizes somewhat different technological advances.
Live Webcasting is modeled after the traditional broadcast, whereby viewers log into an event simultaneously. Consumers benefit because they can see and hear corporate announcements, sporting events and concerts no matter where they are, and are not restricted by local channel broadcasts. Broadcasters benefit with a wider geographical reach, including niche markets, for more targeted advertising.
Live Webcasts, as well as traditional broadcasts, may also be offered as video-on-demand streams. These programs are captured and archived in one or more streaming media formats and placed on a streaming media server. Consumers can then access a Web page that links to the media, allowing them to watch an event, the news or a television show at their convenience.
But why bother streaming television programs if higher quality can just as conveniently be recorded and time-shifted with conventional consumer electronic devices or new digital video recorders? Here are reasons to consider Internet broadcasting as a viable business:
The VOD model capitalizes on the "anytime, anywhere" habits of the Internet consumer.
Advanced codec technology and the growing availability of broadband connections to the home translate into streaming media quality that approaches or exceeds VHS.
According to a recent study conducted by Arbitron and Edison Media Research, users spend more time online with higher connection speeds, and less time with traditional media.
With new models for advertising and new technology to deliver rich media to broadband users, the broadcasting world can keep the doors open to these consumers. For instance, content that engages the user and activates their clicking fingers will draw them in and keep them coming back. Advertising may be made more subtle, but just as effective, by embedding product endorsements and URL links into the content.
Technology developments now underway will help fuel the growth of Internet broadcasting. In terms of production, companies such as Anystream, Thomson Grass Valley and Pinnacle have developed systems capable of ingesting audio and video content and making it available in multiple Web formats and at multiple bit rates to accommodate different user connections. These systems help automate the process of repurposing regular television broadcasts for the Internet audience. Future developments will also need to incorporate embedded advertising, URLs and product endorsements that can dynamically target a particular audience or even individual viewers.

Figure 1. The edge network of a content delivery network caches or replicates media for more efficient delivery to multiple users. When one server gets overloaded, the client requests can be moved to another server on the network.

Reliable content delivery networks (CDN) have also built out the infrastructure to deliver quality of service (QoS) streams to Internet audiences. They have developed edge server network topologies and advanced network monitoring capabilities so that streams are delivered without buffering or interruptions. Figure 1 illustrates this edge-serving technology, which balances the load of delivering streams across many servers located closer to the point of delivery.
Content producers still need to pay for point-to-point usage of their streams, but bandwidth charges today are half of what they were last year, a trend that will continue as market demands increase. In addition, Internet broadcasting can take advantage of the content management services offered by some CDNs. In this manner, advertisers can tell who's watching what, and even how they are interacting with the streams, in a much more direct way than traditional broadcasting allows. Niche markets and targeted advertising to diverse locations and audiences can actually have a higher ROI if the tools are in place to take advantage of them.
Technology advances will give Internet broadcasters the tools and resources to create and deliver more interactive content to their audience. In the coming year, the development of MPEG-4 applications will offer a broader base of tools for the interactive media production environment. Delivery platforms and devices will continue to expand the market for "anytime, anywhere" consumers retrieving content over many different connections. With the continuing broadband buildout, and new devices and standards on the horizon, perhaps we will finally see true digital convergence in Internet broadcasting.
Barb Roeder is president of Barb Wired LLC, a technology consultancy specializing in the formatting and delivery of digital media. She can be reached through her Web site atwww.barb-wired.net.
The latest product and technology information
Future US's leading brands bring the most important, up-to-date information right to your inbox
Thank you for signing up to TV Tech. You will receive a verification email shortly.
There was a problem. Please refresh the page and try again.