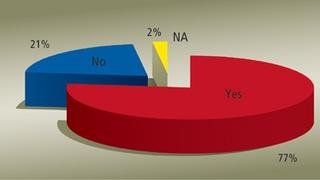 In part V of our series on the industry's building plans, we focus on RF systems. Specifically we'll look at key issues related to the purchase and scheduled implementation of DTV.
Will you meet the DTV deadline?
Television station respondents were asked if their facility would meet the FCC timetable for providing an on-air DTV signal. That's May 2002 for commercial stations and May 2003 for non-commercial stations. Almost 77 percent said they'd meet the deadline.
When will you buy?
The same question was then asked in a different way. If you're planning to meet the FCC deadline, then when will you purchase the needed equipment? Almost 35 percent said they have or will make the purchase this year. That's good, given today's market conditions. Another 22 percent planned to buy their DTV RF system next year. However, at this schedule, only 57 percent of all stations would even have equipment purchased by the end of 2002. Another 25 percent apparently don't even know when they'll make the purchase decision. Could they be hoping for a delay?
How much will you spend?
Estimated average budget for the DTV RF system is just over one million dollars — $1,157,813. There's good news in that more than 20 percent said they'd be able to get on the air for less than $500,000.
When will you begin DTV transmissions?
The follow-up question was, obviously, when will you be on the air? In question one, 77 percent said they'd meet the FCC's deadline. About 42 percent said they'd be on the air by the end of this year. Another 20 percent said by the end of 2002 and another 10 percent by the end of 2003. This would leave only 30 percent of U.S. stations still not on the air by the end of 2003. That's not bad, and those numbers match nicely with the results from question one.
When will you begin HD or multicast?
Two questions related to the type of DTV transmissions planned were asked. Remember that just transmitting a digital signal is sufficient to meet FCC requirements. There is no requirement for either HD or multicast transmissions. The average date for both HD and multicasting transmission is 2006. It's positive to note that almost 30 percent of respondents claim to already be transmitting HD signals.
Get the TV Tech Newsletter
The professional video industry's #1 source for news, trends and product and tech information. Sign up below.