Applied Technology: Benefits of Centralcasting at France Télévision Publicité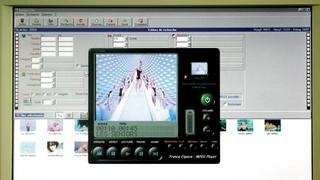 The concept of centralcasting is certainly receiving attention from broadcasters, but what exactly is the attraction? Most broadcasters envision the technology as a centrally located master control system with high-bandwidth IP or other networks from the central location to the local transmission site. Additionally, most think of centralcasting as a technology employed to broadcast long-form content or an entire stream of content, with operations differing geographically, but not in the concept, of live content streaming to air from a centrally located facility.
France Télévision Publicité, however, is proving that centralcasting can do much more. The advertising-production subsidiary of France Télévision recently migrated to a centralcasting model and uses the technology to centrally ingest commercial spot content and edit specific commercial break sequences, which are determined by broadcast slots as well as factors such as sports or news events, weather conditions, or peak-audience programs. The broadcaster then distributes the content as video files to remote broadcast locations via a private network.
Based on a hub-and-spoke model, France Télévision Publicité employs an SGI Media Server for broadcast systems providing MPEG-2 ingest capabilities at the central facility in Paris and a smaller SGI Media Server for broadcast systems providing playout services for the spots at the local transmission facilities. Connection to the server systems is via a private ATM network. This approach is similar to an edge server architecture and provides several benefits for France Télévision Publicité, including quality, cost, flexibility in distribution and improved access to content.

Interface-player showing a typical Télévision Publicité desktop. Operators can ingest commercials at up to 50 Mbits/s, then process, edit and transfer programs at faster than real time using SGI Media Servers. The technology provides dynamic scheduling and customized commercials to be quickly developed and transmitted to broadcasters.

Under a file-based distribution model of centralcasting, the quality of the video is not related to the bandwidth of the network. Because network-based distribution is file-based rather than real-time stream-based, the quality of the video is determined when ingested or recorded. All clips ingested at 50 Mbits/s MPEG-2 will have the same characteristics unless otherwise acted upon by further decoding, compression or transcoding. Simply transferring a file has no effect on its quality.
Because of the open networking capabilities of the media server for broadcast, France Télévision Publicité was able to use an existing network without purchasing hardware to convert physical interfaces. Employing standard IT infrastructure unlocks a world of flexibility and lowers costs. Open-system file servers, the latest high-speed networking, high-performance operating systems and file systems all are examples of technologies employed by forward-thinking broadcasters managing and delivering their content as data. As such, they enjoy reduced capital outlay, ease of repair, and greater access to parts and service — all economies of scale.
Prior to implementing the centralcasting model, France Télévision Publicité created videotapes of commercial spot segments, made dubs and transported these dubs via motorcycle or car to the remote broadcast locations. Once these tapes were loaded in the playback machines, the only way to make changes was to repeat the entire process.
Since employing the distribute data, view video approach to centralcasting, France Télévision Publicité has enjoyed the ability to make dynamic changes to schedules. Content can be sent directly from the central location to the transmission servers allowing for last-minute schedule changes, and greatly enhancing revenue. In addition to adding new content to the schedule, the schedule itself can be changed for administrative reasons.
With more than 30,000 commercial spots now in online or near-line storage, the staff at France Télévision Publicité has access to the spots as data, rather than as a library of videotapes. When each of the spots was originally ingested, metadata describing key attributes was entered into the asset management system. Staff members have access to each of these spots via a high-speed Ethernet network. When requests are made for these files, local editing distribution is accomplished in the same manner as wide-area spot distribution. There are two associated actions — distribution and viewing — that one can do with video. Rather than keep these as a unified process, using this concept removes the bind between the two. Distribution can be accomplished without viewing the video and can be done without time reference. The file that was transferred is identical in all characteristics to the original.
Additionally, as transfers now are not bound to real-time references, characteristics of high-speed data networks can be exploited. It is now common to have 1000 Mbits/s data networks within facilities. File transfer times on these networks are several times faster than real time. For example, a 30-second file of 25 Mbits/s MPEG-2 would transfer via gigabit Ethernet at approximately 30 times faster than real time, including protocol overhead, resulting in a news story with a total running time of one minute transferring in approximately two seconds. Total time for access to content is reduced from more than 10 minutes to less than 15 seconds.
Removing the requirement of real time from its centralcasting architecture and migrating to a central file server and edge-server architecture now allows France Télévision Publicité to enjoy the efficiency of its operations and revolutionize the process of acquiring content.
C. Jason Mancebo is a senior technology manager for the Media Industries division at SGI in Mountain View, CA.
Get the TV Tech Newsletter
The professional video industry's #1 source for news, trends and product and tech information. Sign up below.